Andy Murray's mother Judy says Olympics lifted 'burden'
Last updated on .From the section Tennis92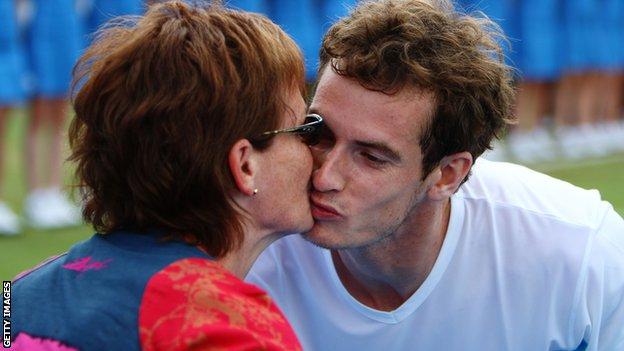 Andy Murray's Olympic heroics will give him the belief he can win his first Grand Slam, according to the British number one's mother Judy.
And his mother hopes her son's Games victory will breed more success.
"He will certainly go into Grand Slams with that belief that he can get over the final hurdle having done it once," she told BBC Radio 4's Woman's Hour.
"I think a big burden has probably been lifted off him after getting the gold medal at the Olympics to prove to people that he could get through a big final against one of the best players in the world."
World number four Murray struggled to speak and hold back the tears following his defeat by Federer at Wimbledon.
But a month later he was winning Olympic gold and his mother believes that show of emotion could have endeared the Scot to the British public and in turn may help him become a future champion.
"I think there was a huge wave of love and support from the public," she said.
"I think they understood how much it meant to him and how hard he's worked.
"I really do think that support helped him a lot to make him realise that the public was really behind him and then when we got into the Olympics and the crowd was very much for the British players and the British team - I think that really lifted him as well.
"So who knows if he will win [Wimbledon] next year, but he will certainly be out there doing his best."
Judy, the captain of the women's Fed Cup team, has helped Andy and brother Jamie every step of the way in their tennis careers but admits "it doesn't get any easier" watching them compete.
"You just have to ride that rollercoaster of emotions with them and then you're thinking ahead and having to help them get over the disappointment of it and keep them strong," she said.
"There is always another tournament around the corner and that is the wonderful thing about tennis."
Murray has another chance to claim his maiden Grand Slam when the US Open begins in New York on 27 August, but his preparations suffered a blow when