US Open: Kim Clijsters aiming to retire with Flushing Meadows win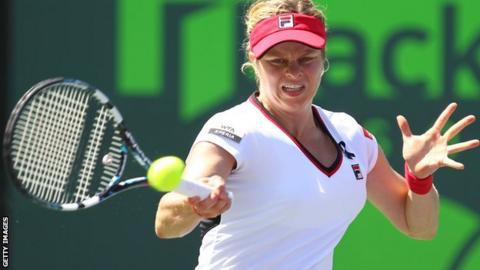 US Open
Venue:

Flushing Meadows

Dates:

27 August - 9 September

Coverage:

Listen on BBC Radio 5 live sports and online; live text commentary on the day's best match
Three-time US Open winner Kim Clijsters is hoping she can end her career on a high by winning at Flushing Meadows.
The 29-year-old Belgian, who announced her retirement in May, has been on a farewell tour throughout this year.
Injuries have restricted her to just six tournaments, but she is confident heading into the last Slam of the year, which starts in New York on Monday.
"I'm in maybe the best shape that I have been in and my goal is to try and win the US Open," Clijsters said.
"I'm still focusing on trying to be in the best shape that I can be. My mindset is not any different and I really believe that physically I can do it."
Clijsters, who reached the Olympics quarter-finals, losing 2-6 5-7 against women's number one Maria Sharapova, is optimistic ahead of the New York Slam.
"This place is magical for me," she said. "I have had so many beautiful memories. I love the surface, I love the atmosphere and I'm excited.
"I want to play well so I'm focusing on that for now. I'll be as ready as I can be and not look too far ahead. I'm focused on just trying to play my best."
Clijsters first retired in 2007, following a series of chronic injuries, but returned two years later to become the first wildcard to win the US Open.
She went on to win a third Flushing Meadows title in 2010 - after winning the event for the first time in 2005 - and the Australian Open title in 2011, after which she topped the world rankings for the first time in five years.
Sharapova and Britain's Andy Murray have been among a host of fellow tennis players to pay tribute to the three-time champion.
"There's so many great things besides the fact she's been an incredible tennis player and champion," Sharapova said.
"She was always so focused and determined - one of the best athletes the game saw in women's tennis."
Meanwhile, Murray, who is also trying to continue his impressive form following his Olympic gold medal win, said: "As a person, which is much more important than the tennis, she's a lovely person.
"I'm sure she will be remembered as one of the best players of the last 15, 20 years and also one of the best people."
If Clijsters is to win her 42nd career title she is going to have to be at her best, with several players in with a shout of winning the tournament.
Following her recent Olympic win, which saw her thrash the world number one Sharapova 6-0 6-1, Serena Williams will go into the event as one of the favourites, something that will not faze her.
"You've got to embrace it whether you're the favourite or the one to beat or whether you are not," the American said.
"And I embrace it. In Wimbledon I wasn't the favourite, I embraced that. Hopefully I can do my best here.
"I don't feel pressure. My dad said the only pressure you have is the pressure you put on yourself. If I win, that would be great. If I lose, I realise I'm going to go home and be devastated. But there's always tomorrow."
Williams, who has won the tournament three times, was suprisingly beaten in last year's final by Sam Stosur but sister Venus is backing her to be the one to beat.
"She's amazing," Venus said. "I think when she's playing great and feeling confident - even when she isn't - it still takes a hurricane to beat her."
Clijsters added: "To me, Serena is the best ever because physically she just stands out.
"She's fast, she's strong, she has a very good eye as well. What we have seen over the last few months is the best player ever."