Andy Roddick to retire from tennis after the US Open
Last updated on .From the section Tennis47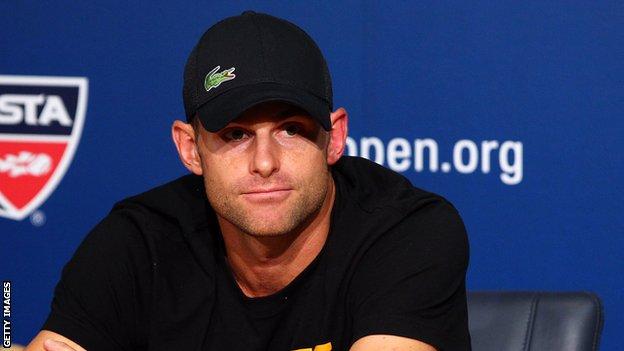 Former world number one Andy Roddick is to retire from tennis after the US Open.
The American made the announcement at a specially arranged news conference on his 30th birthday.
It means his second-round clash with Australian Bernard Tomic on Friday could be his last match.
"I've decided that this is going to be my last tournament. I just feel like it's time," said Roddick, who won his only Grand Slam in New York in 2003.
The three-time Wimbledon finalist admitted he knew the time was right to retire after his 6-3 6-4 6-4 victory over compatriot Rhyne Williams.
"I don't know if I'm healthy enough or committed enough to go another year. I've always wanted to finish at this event," said the world number 22.
"I've thought all year that I would know when I got to this tournament and, when I played my first round, I knew.
"These other guys have gotten really, really good and I'm not interested in just existing on tour. I don't want to disrespect the game by coasting home."
Roddick, the last American to win one of the sport's biggest prizes, failed to add to his sole Grand Slam title largely because of the dominance of Roger Federer and then the emergence of Rafael Nadal.
He reached the Wimbledon final in 2004, 2005 and 2009, coming closest to winning the tournament three years ago before eventually losing to Federer 16-14 in the fifth set.
Roddick, who has struggled with injuries in recent years, revealed he sensed he would not return to SW19 after losing to David Ferrer in June.
"Walking off at Wimbledon, I felt like I knew. Playing here, I don't know what it was. I couldn't imagine myself being there in another year.
"I've always, whatever my faults have been, felt like I've never done anything halfway.
"It's probably the first time in my career that I can sit here and say I'm not sure that I can put everything into it physically and emotionally.
"I have a lot of interests and a lot of other things that excite me. I'm looking forward to those."
World number one Roger Federer described Roddick as a "great man" and admitted he had "some great battles" with the American, notably the 2009 Wimbledon final.
"He was a great competitor and a great champion. We had some epic battles over the years," said Federer.
"He truly deserves a great ovation and a great atmosphere [on Friday] and he's going to need it because Tomic is a great player."
Fourteen-time Grand Slam champion Serena Williams revealed she had known for a while that her friend and compatriot was contemplating retirement.
"I was hoping he would change his mind. I love him. He's been so amazing for American men's tennis so I'm sad to see another face gone," said the Wimbledon and Olympic champion.