Andy Murray's coach Ivan Lendl confident over US Open final
Last updated on .From the section Tennis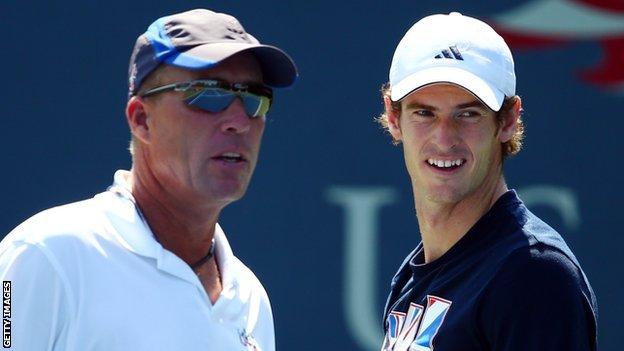 Coach Ivan Lendl believes Andy Murray is ready to emulate him and win a Grand Slam final at his fifth attempt.
Lendl feels Murray, who lost the Wimbledon final in July before winning the Olympics, can take the next step.
"Andy is ready to go and win. The lesson he learned from the Wimbledon final was a tough one but he learned it well," Lendl said.
"If you look at his losses he has been beaten by Roger Federer three times and Novak Djokovic.
"After Wimbledon I said to him he should be proud of the way he handled the pressure because there was a big difference between that loss and the one he had to Djokovic in Australia the previous year."
Lendl finally ended his wait for a Grand Slam title at the French Open in 1984, going on to win eight in total, including three US Open titles.
The Czech says he thinks Murray's final defeats will be vital in winning his first major title.
Lendl, who was appointed as Murray's coach in January, added: "I lost to Bjorn Borg and I lost to Jimmy Connors twice, and with Mats Wilander on grass in Australia I was not in my prime and still learning.
"Andy is now in his prime."
Murray's news conference after the Berdych win, which was played in high winds, was interrupted by actor Sir Sean Connery and Manchester United manager Sir Alex Ferguson.
"I've been coming here the last three years to New York and I explained how Scotland invented the world," Ferguson said. "Today we invented the wind."
"Today [Scotland] conquered the world," Connery said.
"To meet those two guys was cool," Murray said.
"I had been in touch with them, we had traded messages and e-mails, but I had never met them before. It's nice to have their support.
"They're going to be here for the final as well so I hope I can do it for them both."