Andy Murray v Novak Djokovic US Open final analysis
Last updated on .From the section Tennis204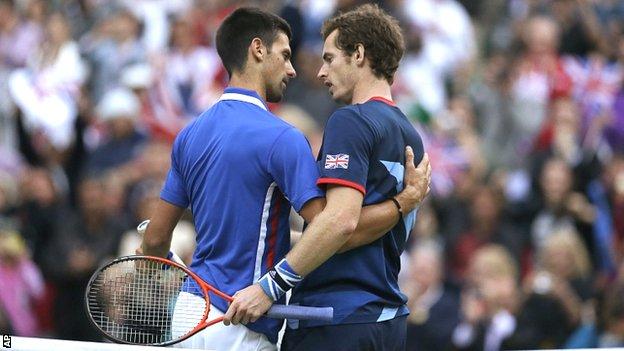 Andy Murray will attempt to win his maiden Grand Slam title when he plays defending champion Novak Djokovic in the US Open final on Monday.
The British number one has lost each of his four previous major finals - an Open era record he shares only with coach Ivan Lendl.
But Lendl won at the fifth time of asking and Murray will hope to do the same when he meets good friend Djokovic at 21:00 BST.
This is the Scot's second appearance in the New York showpiece and Djokovic's fourth, while the Serbian has won 27 consecutive hard court Grand Slam matches stretching back to the 2010 US Open.
Djokovic, a five-time Grand Slam winner, leads their head-to-head 8-6, but at the London Olympics went the way of Murray.
Michael Stich, Miles Maclagan and Nick Bollettieri look ahead to the latest encounter between the 25-year-olds.
Michael Stich, 1991 Wimbledon champion
"The Olympics showed that Murray can, in the big tournaments, beat the big guys. It doesn't mean he will definitely win the US Open, but his path so far has been very impressive and he looks very confident.
"I don't think he will be thinking about the pressure from his other final defeats. He will just remember the win at the Olympics and that is what he will base his confidence on.
"He wants it very desperately. He wants to end that streak for himself and wants to do it for his country.
"Djokovic can always lift his game in the final of a Grand Slam. He knows what it takes to win them. But with the form he is in, the confidence he has, Murray knows he can win."
Miles Maclagan, Murray's former coach
"Andy will be a bit nervous. All players are, but Andy more so now because the difference between one and zero Grand Slams is a lot bigger than the difference between five and six.
"But there will also be a confidence that he has played well and done the necessary work. He has done all he can, so even if it doesn't work out he can still feel content.
"Djokovic is slightly untested so far, he hasn't really been pushed. Clearly having an extra day off will have helped Andy because he looked like he was feeling it in a few of his matches.
"He's going to need to be prepared to leave blood and sweat on the court. They are two of the best athletes in the game and there's no easy way through either of them.
"Andy needs to win free points on his first serve and come to the net to finish points because they both retrieve so well.
"If Andy keeps knocking at the door he's going to break through eventually, but logically you have to say Djokovic is the favourite."
Nick Bollettieri, renowned coach
"Murray is believing he's a winner. He didn't believe it before. He would be emotional, break his focus. But, right now, watch his focus. Shoulders up square like a paratrooper, he looks like a warrior.
"He doesn't put his head down, he is believing in himself and until you can believe that you're a winner there is no way you're going to be a winner.
"I see a bigger serve - he's getting free points, which he will need - I see a bigger forehand, a beautiful two-handed backhand down the line and he's going for big winning forehands.
"Andy, you've got darn good hands, says John McEnroe, and when big Mac gives you a compliment it is a compliment.
"What Lendl has brought is serenity, belief and calmness. You're a winner, Andy, and only one thing counts - winning."