'Andy Murray can be a legend like Fred Perry' says Tim Henman
Last updated on .From the section Tennis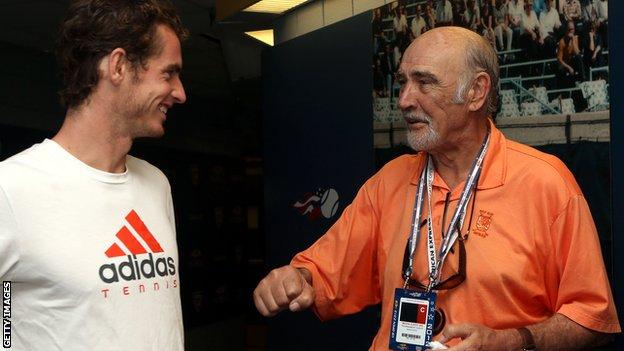 The waiting is over and Britain has a male Grand Slam singles champion for the first time in 76 years following Andy Murray's US Open win over Novak Djokovic.
Murray's victory has provoked praise from celebrity fans to politicians.
Prime Minister David Cameron has had his say while proud Scots Sir Sean Connery and Sir Alex Ferguson, who were courtside at Flushing Meadows to watch him win, have also been quick to chip in.
Here, BBC Sport looks at the reaction to 25-year-old Murray's success, from his past and present coach to his home town of Dunblane.
THE COACH
Ivan Lendl, who won the US Open three times in his career:
"I didn't come here to have a good time, I came here to help Andy win. He did, so job done. Hopefully, we're not anywhere near where Andy can get. Andy has been maturing nicely as a player, as a competitor, as a person. As you mature you become more comfortable in these situations."
THE FORMER COACH
Miles Maclagan, who worked with Murray between 2007-2010:
"He in uncharted territory and he could go one of two ways. Either he'll absolutely fly for a while and win everything in sight, but it wouldn't surprise me to see a bit of a lull. You reach a lifetime goal, something you've strived for your whole life... you have to take a bit of time to think to set some new goals and build up some determination.'"
THE CELEBRITY FANS
Scottish actor Sir Sean Connery:
"I always felt he had everything and now it's really come to fruition. I met him for the first time a couple of days ago. It's great for Scotland. We've had a really great landslide victory. And stop saying he's British, he's Scottish. I have to go now because the champion is waiting."
Manchester United manager Sir Alex Ferguson:
"I'm really proud for the boy. When he really needed to he showed it. That was a real test of a champion for me. I love tennis, I love watching tennis and to be involved was a really special moment. It was more nerve racking than a Premier League match. I'm usually in control of my own situation, but I wasn't in control tonight."
American actor and director Kevin Spacey:
"I don't think I have ever wanted something more for someone. For all of us who either live in Britain, like I do, or from Britain, the place must be going nuts. It is so well deserved. I met him for the first time last week and tonight is one of the matches I will never forget. There's a time for sporting greats - and this is Andy's time."
THE FORMER PLAYERS
Former British number one Tim Henman:
"Can he go on and be a legend like Fred Perry? Yes. I definitely see him going on to win more. I said the first one would be the hardest but I think it will be the first of many. How many he can win only time will tell. The confidence of the Olympics and this will give him so much confidence."
Former British number one Andrew Castle:
"So many have come and gone over the years, so many of us have had a crack at it and have done our best. But this scrawny boy who came along in 2004-05 was always talented. For me, it was at Wimbledon when he grabbed the microphone off Sue Barker - I don't think Sue liked that much - and said after a wonderful loss: 'This is going to be difficult, but I'm going to say a few words.' I thought that was to his credit."
THE POLITICIANS
Prime Minister David Cameron on Twitter:
"Delighted Andy Murray is continuing a golden summer of sport by winning the US Open. A truly great victory."
First Minister of Scotland Alex Salmond:
"Congratulations to Andy Murray on what was a fantastic performance. Andy truly is a Scottish sporting legend and I'm certain that more Grand Slam titles will follow."
Dunblane Conservative councillor Callum Campbell:
"The word proud just doesn't do it any justice. The people of Dunblane have been supporting Andy and his brother Jamie since they were young boys and Andy has repaid their loyalty 10 times over. A lot of young people who live in Dunblane look up to Andy. He's a local hero."
THE FORMER SPORTS PSYCHOLOGIST
Roberto Forzoni, who has worked with Andy Murray:
"Look at his record over the last four or five years, it has got better and better. Ivan has been terrific, that calming influence."
THE COMMENTATOR
BBC Sport's Jonathan Overend:
"Murray was in a state of confusion. Obviously he was delighted, but there were just so many things going round in his mind. We thought it would never happen, we feared it would never happen because of the quality of opposition he continues to face."