Laura Robson showing top-10 potential - Croft & Durie
Last updated on .From the section Tennis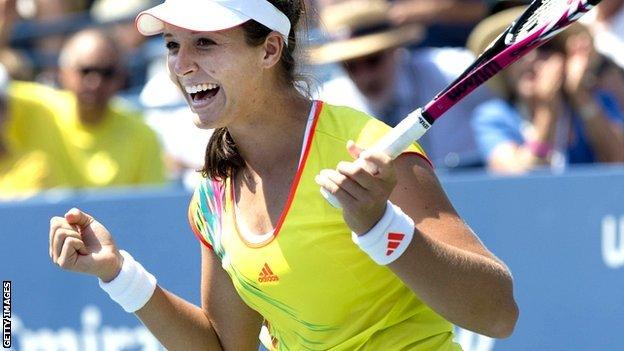 Laura Robson has quickly followed in the footsteps of Andy Murray by breaking through another barrier for British tennis - but how far can she go?
The Australian-born Londoner has been marked out for stardom since winning the Wimbledon girls' title as a 14-year-old and made steady progress up the rankings in the last four four years.
But this summer, Robson's form has taken off. She won an Olympic silver medal with Murray in the mixed doubles and then saw off Grand Slam champions Li Na and Kim Clijsters on her way to the last 16 of the US Open.
In between the two tournaments, she employed new coach Zeljko Krajan, who had worked with former world number one Dinara Safina.
Robson hit the top of the British rankings for the first time last Monday as the world number 74, and she is set to break into the 60s after her performances in China.
BBC Sport asked former British number ones Annabel Croft and Jo Durie - Britain's last WTA singles finalist in 1990 - to chart her progress.
Early days
Robson hit the headlines as a 14-year-old at Wimbledon before making steady if unspectacular progress up the rankings, struggling at times with injuries, and she finished 2011 ranked 131 in the world.
Croft: "She definitely faltered for a while. It's a big step from seniors to juniors - even a first-round match in the seniors is 10 times tougher than a junior final. The pros suss out any weaknesses in about five seconds and you have to get used to travelling to far-flung places and losing to players who aren't big names.
"It's not easy and that experience can make or break you. From the outside it looked like Laura wasn't really enjoying her tennis a lot of the time."
The 'movement' issue
While Robson's ball-striking ability was clear from junior Wimbledon days, there were quickly concerns about her athleticism and ability to get around the court as well as the top players.
Durie: "She's definitely working harder, and if you work harder and work on your movement you're in better positions to hit the ball, and she's staying in the rallies longer. That's something Laura has said - that she can play two or three more shots now instead of having to go for blinding winners down the line which may or may not come off.
"All round she's becoming a more dangerous player because, of course she has the big shots, but now she's willing to stay in the rallies longer before she goes for them. That's something that's going to take her up the rankings."
Croft: "She was groomed as a star player from a young age and maybe didn't put the grind in at first, but she's gone back and done that and we're seeing the results.
"For a while I thought she might not have it in her, but her movement is so much better now and she has this natural strike and timing."
On the attack
Croft: "She has a pop and a fizz on her shots that you can't teach. She just hits winners. And I know a lot of people have concerns about her serve but I really like it. It's very fluid and smooth and as a lefty she can swing it out wide to the backhand side - I think the basics are there.
"I was on court at the US Open when she played Kim Clijsters, and even Kim with that great backhand return was struggling with it."
Durie: "She's got that dangerous game that on her day can challenge anybody. She also likes to be playing on the big courts at Grand Slams; she's not scared of that. She's had a lot of injuries along the way but she grew very fast and now hopefully has grown into her body, so it's very exciting times.
"She seems to have found something within herself. She's working harder, she's moving better and she has always been a dangerous player. Her success doesn't surprise me in the least."
Holding her nerve
Croft: "I remember the juniors at the US Open a few years ago and at the Olympics, she can get a bit jittery, but it's something she can conquer. Being able to cope with the pressure comes with experience. I've seen her come through tough moments enough times to know that she's gritty.
"She's clearly a big-match player. I think being at the Olympic Games and around Andy Murray helped her enormously."
The Krajan factor
Croft: "He certainly looks like the golden boy so far! I know he's a real taskmaster and will be in her face, and maybe she responds to that. I remember he used to rip into Safina during the on-court coaching and he'll be at Laura all the time. Laura is a very different player to Safina, more natural, with power, a lefty serve, she can volley too - there's a lot to be excited about. She's not your average regimented ball-striker."
Durie: "Somebody new coming in can sometimes trigger something, but quite honestly I think she's done it herself."
How far can she go?
Durie: "I think breaking into the top 10 and challenging for Grand Slam titles is becoming a possibility now. There's a lot more work for Laura to do - it's not an easy task to be ranked in that top 10 at the moment, there's a lot of good players playing rather well - but she's got the game."
Croft: "I think she could get inside the top 50 by the end of the year and is definitely a possible top-10 player further down the line. I'm really impressed, I think she's got a great future."