Andy Murray can be world number one - Roger Federer

By David McDaid
BBC Scotland in Shanghai
Last updated on .From the section Tennis38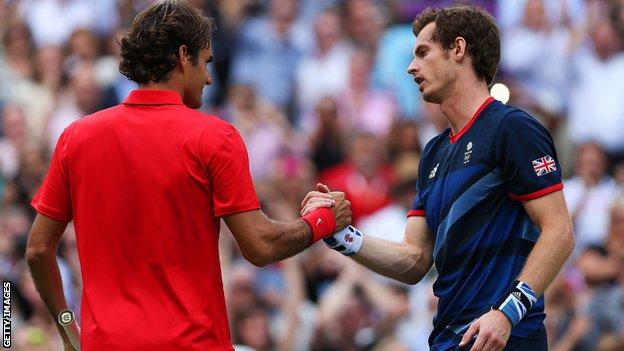 Roger Federer believes Andy Murray is capable of taking over his mantle as world number one.
Following his US Open victory, Murray said he was targeting the consistency over the coming year to make him the world's best player.
The Swiss said: "Yes, he can do it. He should be able to have that goal. He has results that back up his chances.
"His next nine months are going to be extremely interesting to follow. I hope for him he can achieve it eventually."
The 17-time Grand Slam winner joins Murray and Novak Djokovic in China for next week's Shanghai Masters.
The Scot, who is defending his title, arrives after losing in the semi-finals of the Rakuten Open in Tokyo on Sunday to Canada's Milos Raonic.
That was Murray's first tournament since his maiden Grand Slam win in New York in September.
After breaking his Majors duck, Murray, currently third in the world, said: "All players, once you get near to the top of the game, one of the goals is to try to get to world number one.
"I can't say this year it's necessarily possible for me to do it because I didn't have a particularly good clay-court season and I didn't do well in the Masters Series in Cincinnati and Montreal and also in Indian Wells.
"But that is the next step. To do that, you need to be consistent throughout the whole year.
"That's something that Novak and Roger and Rafa [Nadal] have done incredibly well the last few years."
Federer, with more than 300 weeks at the top, has spent longer in the number one spot than any other player in history and he believes Murray has given himself a good chance of following suit.
"It would be very wrong if he said he wanted to become world number two now," he said.
"I think maybe at the end of the year [he can do it], maybe the beginning of next year. Or, if not then, he's got a shot until next Wimbledon almost - if he were to win there."
The Swiss feels Murray's fine summer could prove the catalyst for such an achievement.
"I think he's done so well," Federer added. "His reaction was amazing after not winning Wimbledon against me.
"Then coming back to win the Olympics and bringing the victory home for his first Grand Slam at the US Open was great to see.
"I was very impressed and I'm sure that's going to give him confidence for what's to come.
"How me, Novak and Rafa - whenever he comes back - and the rest of the players will play will have a little bit of an impact.
"But, overall, Andy has some control over that himself now."