Roger Federer shrugs off 'small' death threat

By David McDaid
BBC Scotland in Shanghai
Last updated on .From the section Tennis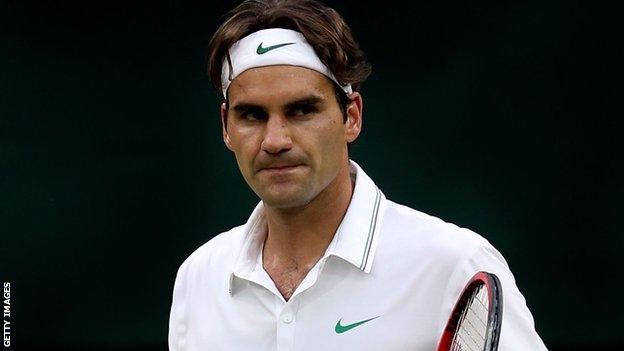 Roger Federer is surprised and disappointed at the level of attention given to a death threat he received.
The threat towards the Swiss world number one was posted online via one of his fans' websites.
"I'm a bit disappointed that it became a lot more public and came out in the press," Federer said.
"It was very small on a website, nothing very clear and concrete - people debating. To make that kind of big news is a bit surprising for me."
Federer is in China for the Shanghai Masters, where he is being chaperoned by a large security presence.
The local chief of police has also said he will boost the police presence around the ATP event at the Qi Zhing tennis centre.
Federer revealed that he first learned of the threat around 10 days ago, and stressed that it had no bearing on the decision of his wife and children not to travel to Shanghai with him.
"I don't want to talk too much about it." Federer added.
"I've felt very safe here, the authorities have been wonderful, the government has been very supportive and I've felt great since I've been here.
"Obviously it's been a different type of preparation and it's a little bit of a distraction - there's no doubt about it.
"You have to be aware of what's happening around about you but that is the case anywhere today with my fame and all that stuff.
"But it's been fine. I'm happy I'm here and I feel I'll have a good preparation to start on Wednesday or Thursday."