Elena Baltacha undergoes successful foot surgery
Last updated on .From the section Tennis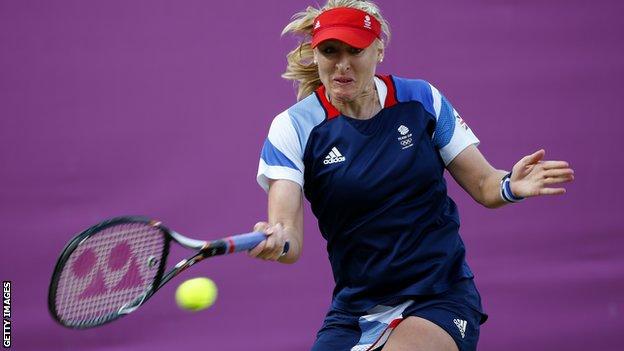 Elena Baltacha has undergone successful surgery on a foot injury as the Scot contemplates whether to continue her tennis playing career.
The 29-year-old former British number one said in July she would be taking six months off to recover from injury.
She has now posted photographs of her foot in plaster on Facebook.
"I had successful surgery on my right foot to remove a little piece of bone that was causing a lot of problems around my ankle," she said.
"It looks like I'll be on crutches for a few weeks, but, after that, there'll be no stopping me."
Baltacha, now based in Ipswich, has slipped outside the top 100 in the world rankings and now lies at 135 following her inactivity since competing at the Olympics in London.
And she is down to number four in the British rankings behind Laura Robson, Heather Watson and Anne Keothavong.
"I have had the problem for about five years, but this year has been the worst," Baltacha told BBC Sport before her surgery. "I've missed quite a few tournaments and been told that I have to have surgery."
Baltacha said she be looking to do some "pre-season" training in November or December before deciding whether to return to the tennis circuit in February or retire.
She might instead dedicate her time to the Elena Baltacha Academy she has establsihed in Ipswich.
"If I miss that tennis life and want to get on a plane and give it another go, I will do that," he said. "But, if I decide that I want to dedicate my life to the academy, that's what I'll do."