Heather Watson disappointed by Andy Murray Olympic selection
Last updated on .From the section Tennis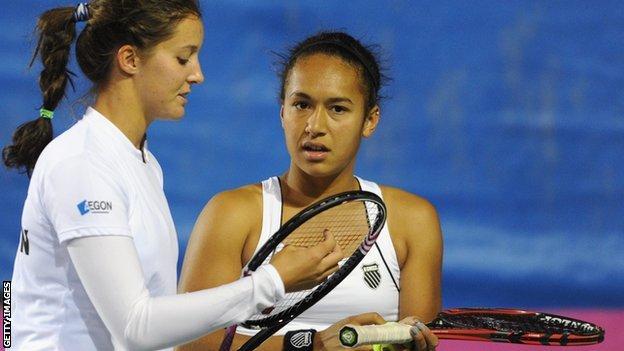 Heather Watson has revealed she was disappointed Andy Murray picked Laura Robson to compete with him in the Olympics mixed doubles competition.
"Honestly, yeah. I wanted to play," Watson told the Observer.
"It was the Olympics. I think anyone in my position would have wanted that opportunity. But it was his decision. It's made me stronger."
Watson was still delighted to see the pairing win silver at the Olympics despite her disappointment at being overlooked.
"It's fine. They ended up with a silver medal. That's brilliant," she added.
Watson's win at the recent Japan Open moved her into the world's top 50 for the first time in her career - two places above Robson - but the Guernsey-born player is hungry to continue improving.
"My ambition is to get to number one in the world and win one of the grand slams," she said.
"You have to be selfish to win. You can't be sympathetic to your opponent."