Serena Williams and Maria Sharapova set for WTA final
Last updated on .From the section Tennis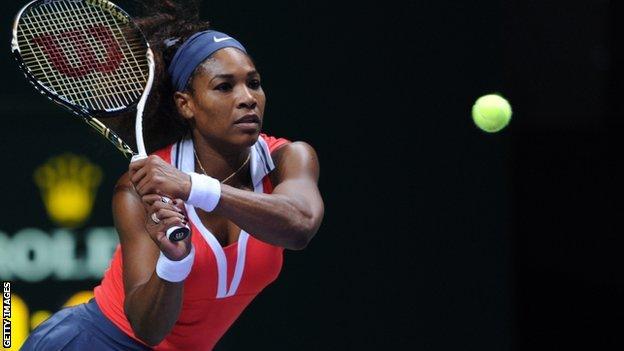 Serena Williams and Maria Sharapova will face each other in the final of the WTA Championships in Istanbul.
Williams, the American world number three, booked her place in Sunday's final with an emphatic 6-2 6-1 win over Agnieszka Radwanska in 61 minutes.
Sharapova, the world number two from Russia, had to work much harder before overpowering world number one Victoria Azarenka 6-4 6-2 in her semi-final.
The match featured a sixth game in the second set that lasted 15 minutes.
Sharapova served two double-faults but finally broke Azarenka's resistance after nine deuces to take a 5-1 lead.
Azarenka, who had secured the year-end top ranking the day before with her win over Li Na, seemed to be hindered by a strained right thigh and was unable to prevent her opponent's victory.
"I have lost to Victoria a few times so I was happy to get the chance to play against her," said Sharapova, who went into the match having lost to the Belarusian four times out of five this year.
"Against the world number one, you have to run down every ball. She's number one for a reason so I had to be ready for every shot.
"It will be a difficult match against Serena. She's been on fire, she's the one to beat."
Sharapova, the French Open champion, will now seek to win her second WTA Championship title, having also won it in 2004.
But the French Open champion will face a tough task in the final, with Williams having won her last 12 matches against top-four players.
Williams, who has won six WTA titles this year - including the Olympics, US Open and Wimbledon - came into the day's first semi-final having not dropped a set, while Radwanska had played in two three-set matches.
The 23-year-old world number four, whose match against Sara Errani on Friday was the longest in the tournament's history at three hours and 29 minutes, looked more fatigued as the contest wore on.
The Pole, runner-up to Williams at Wimbledon, was broken three times in each set as the 15-time major champion secured her 47th win out of her last 49 matches.
"Those last two matches really killed me," said Radwanska. "I really wanted to run, but my legs didn't.
"I was trying, but Serena played too fast. I couldn't do anything."
Williams, 31, was sympathetic to the Pole's predicament, saying: "I just told her it was awesome that she played so well and played through another match after playing a good eight hours. It was really inspiring for me."