Fed Cup: Petra Kvitova hopes to end 2012 with final flourish
By Piers Newbery
BBC Sport
Last updated on .From the section Tennis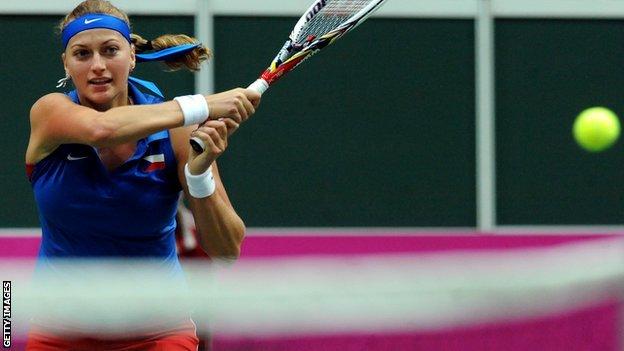 Petra Kvitova is doing her best to sound positive after finally getting on court following the illness that forced her to withdraw from the WTA Championships.
"Well, I stayed on the court for 15 minutes, so I can't say that it was practice, but I got a feel of the balls and the court," says the Czech just three days before she hopes to lead her nation in the Fed Cup final.
"I hope that on Saturday I'll be ready. I am optimistic, I have to think positively."
Kvitova won both singles matches in and, fitness permitting, is likely to be the key player against Serbia in Prague this weekend.
"It would be so great if we can win again," says the 22-year-old. "We are playing at home in front of our families, we have a full stadium, so I know it's going to be big pressure but the support is going to be huge, so I hope we can defend our title."
The has endured a difficult 2012 with injuries and illness, culminating in her withdrawal after one match at last week's elite championships in Istanbul.
"It was really sad," she admits. "It's never easy and it was the first time for me that I withdrew. I never retired from a match, and I don't like this."
Twelve months ago, Kvitova completed a stellar year by to her Wimbledon triumph, before going on to help the Czech Republic win the Fed Cup for the sixth time [the first five wins came under the flag of Czechoslovakia].
This year has been tougher going, with an Achilles injury and illness disrupting the early part of the season and a string of wins hard to come by, but two Grand Slam semi-finals, two tour titles and a Fed Cup final have helped her end the year eighth in the rankings.
"It was pretty solid," says Kvitova. "I made the (WTA) Championships again, so was in the top eight. I had some troubles, I was injured and sick and it's not easy to be like this on the tour, if I'm not 100%."
If 2012 feels like something of a letdown, it is because she began the year as the world number two and widely tipped for top spot going into the Australian Open.
"She's the one to beat right now," said Maria Sharapova, and Victoria Azarenka to then become number one by claiming her first Grand Slam title.
"I tried not to think about the number one in January but every press conference, all the questions were about the number one.
"It was a small step to be number one but there were six players who could be number one. Of course I wanted it, maybe in the future. Maybe I'll have a little less pressure next year, but this year at the beginning I had big pressure and I played good tennis.
"Of course it's difficult as players have nothing to lose against me but I can't be thinking like this, I have to just be focused and try to improve everything and be on the court thinking about the match, and not about the girl on the other side."
When the focus is sharp, there are few players who can live with Kvitova in full flight.
"I'm a lefty and I like to play fast and short rallies," is her straightforward description of her game. "When I started to play tennis with my father I was like this, I never liked long rallies."
If Kvitova has the tools required to take on all-comers, there is still plenty to work on in a game that is explosive but inconsistent.
"I can improve everything, which is great news for me and my coach," she says, laughing, before adding: "I can improve my fitness, my tactics and especially I think the mental side can be stronger.
"That is difficult, very emotional sometimes and I have a great sports psychologist [Michal Safar] - we have been working together for almost a year, so we know each other very well and he knows exactly what I need and what I have to improve. Everything about using pressure and playing your best under pressure. It's hard to describe."
If she is to resume her Grand Slam-winning ways and vie for top spot, there is one major obstacle that Kvitova must overcome.
Serena Williams has blown away the competition in the second half of 2012, taking Kvitova's Wimbledon and WTA crowns and adding the US Open and Olympic titles for good measure.
The American might be ranked third, behind Azarenka and Sharapova, but there is not much doubt who is the one to beat.
"I think right now Serena's the best player in the world," says Kvitova.
"She's a great player, a huge champion, and what she did in the last couple of months is unbelievable. She was unstoppable. I think she's much stronger and a better player than before. She's a big champion and I hope that I can take something from her."
So does she believe she can beat the American next year?
"Who knows? It's a different season and of course I'll try in the off-season to practise a lot on the important things I need in my game, and then we'll see."
For now, there is one more task to complete in front of a packed and expectant crowd before Kvitova escapes the Prague chill and forgets about tennis for a fortnight.
"We'll go to the beach," she says. "Somewhere warm."