Roger Federer calls for more drug tests in tennis
By Piers Newbery
BBC Sport at the O2 Arena
Last updated on .From the section Tennis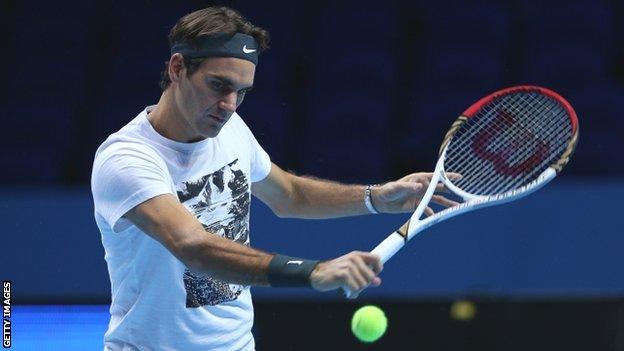 Roger Federer wants more drug testing in tennis and says he is being tested less than in previous years.
"I feel I'm being less tested now than six, seven, eight years ago," said the world number one.
"I don't know the reasons we are being tested less and I agree with Andy, we don't do a lot of blood testing during the year. I'm OK having more of that."
The available International Tennis Federation anti-doping records only highlight individual players for the last two years, and show that Federer underwent four to six in-competition and one to three out-of-competition tests during 2011, and more than seven in-competition and one to three out-of-competition tests during 2010.
These figures are for ITF and World Anti-Doping Agency (Wada) tests and do not include those carried out by national anti-doping organisations.
It is not specified whether the ITF/Wada tests used urine or blood samples, but the ITF data does show that only 18 male specimens were collected through out-of-competition blood testing in tennis throughout the whole of 2011, and six during 2010.
This is something that particularly concerned Murray in the light of revelations in cycling about widespread blood doping.
"We do a fair amount of drug testing but we could do more," said the US Open champion, who was blood-tested ahead of the Paris Masters last week.
"A lot of it has been urine, not so many blood tests. I think it's important to make sure we have all of those bases covered. I think tennis is a clean sport but the more we can do to prove that all the time is good."
Speaking ahead of the ATP World Tour Finals which start in London on Monday, Federer agreed with the Scot.
"I just think it's important to have enough tests out there," said the Swiss. "I don't like it when I'm only getting tested whatever number it is, which I don't think is enough or sufficient during the year.
"I think we should up it a little bit, or a lot - whatever you want to call it - because I think it's key and vital that the sport stays clean. It's got to. We have a good history in terms of that and we want to make sure that it stays that way."
Novak Djokovic, set to take over as world number one on Monday, backed the stance taken by Federer and Murray.
"I agree," said the Serb. "We are trying to make this sport as clean as possible, as fair as possible for everybody, so I have nothing against testing and, why not, we should do it more."