Andy Murray set for Novak Djokovic test at World Tour Finals
By Piers Newbery
BBC Sport
Last updated on .From the section Tennis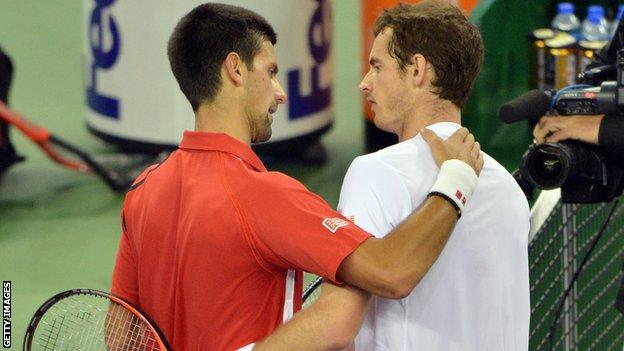 Andy Murray and Novak Djokovic will resume what is currently the hottest rivalry in tennis at the ATP World Tour Finals on Wednesday.
The Briton and the Serb have met six times this year, with three wins each.
They include Murray's first Grand Slam title at the US Open and a victory for Djokovic in Shanghai last month.
The two men will play in Wednesday's first Group A singles match at 13:45 GMT, before Tomas Berdych takes on Jo-Wilfried Tsonga at 19:45 GMT.
Murray and Djokovic both won their opening round-robin contests and will move within sight of the semi-finals with another win.
Epic encounters in Melbourne, New York and Shanghai this year have seen the Murray-Djokovic duel, at least for now, fill the gap left by the absence of the injured Rafael Nadal, who has had a long-running rivalry with Roger Federer.
"Whether me and Novak would replace anything Roger and Rafa have done, I think that's a long way off," said Murray.
"But I think some of the matches we've had this year were high quality, fun to watch, and I'm all for playing more of those matches if I can."
Both men know they are in for a gruelling encounter when they meet, with sets regularly lasting over an hour.
"For me there's an understanding of how much you have to put into the match to win it," said the Briton. "I think that's just the nature of those matches.
"Both of us are very good retrievers so often the points will go on a lot. Sometimes you feel like you maybe need to win the point two or three times, which is tough and can be a little bit tiring.
"But we've played each other enough to know what to expect. We do practise with each other quite a lot too, but it's never quite the same as matches, that's for sure."
Djokovic is exactly one week younger than Murray, and having known each other since they were 11 there are few surprises left between the 25-year-olds.
"When I play Andy I need to be ready for long rallies and a physically demanding match," said Djokovic. "We are big rivals but also very fair to each other.
"We have a very friendly relationship. I'm very glad to keep that relationship with Andy, somebody that I've known for a very long time."
Djokovic was presented with the trophy for being the year-end number one in London on Tuesday, for the second year in succession, after regaining top spot from Federer.
"It's a huge satisfaction," said the Serb. "Knowing in the back of my mind that I will end the year as number one is a huge relief for me and my team.
"Knowing how long the year was and how difficult and competitive it was with all my rivals, it just makes it even bigger."