Andy Murray inspiring promising crop of British youngsters
By Piers Newbery
BBC Sport at ATP World Tour Finals
Last updated on .From the section Tennis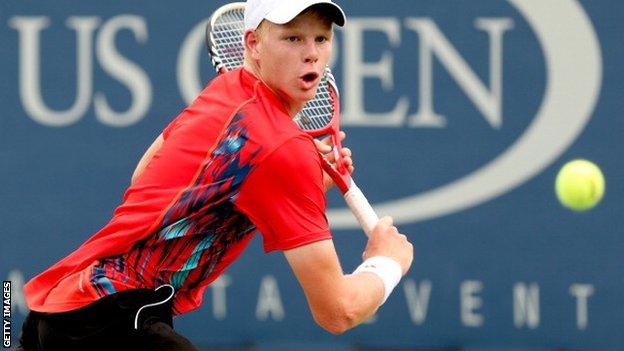 The best hope of Britain producing another tennis player capable of joining the elite might well lie with Andy Murray himself.
"I have been in Florida for the last nine days watching Luke Bambridge, Kyle Edmund and Liam Broady play in Futures events on clay," says Davis Cup captain Leon Smith.
"I left with nothing but encouraging feelings about how they are as people, in terms of their commitment to the sport.
"Bambridge is doing an eight-week tour and it doesn't faze him. All the boys are doing five weeks. Sometimes British players have been accused of not wanting to go out on clay for long periods of time - these boys are prepared to do it, and they're enjoying doing it.
"They're enjoying being in the gym, they're enjoying fighting out on the court, they don't mind practising for hours on end."
All of which sounds like the Murray mantra - the US Open champion's regular refrain of how he can still get fitter, stronger, better.
The Scot has assembled a support team that puts him through the tortuous training blocks in Miami which allow him to play five-hour matches against some of the best players ever. Among Team Murray is Matt Little, who combines his role with working at the National Training Centre in Roehampton.
And if the theory was that a Grand Slam champion would inspire people to take up racquets, it is already having that affect on those looking to join him at the top of the game.
"He's one of the best players in the world and we've got great access to him," says Smith. "Jamie Baker and Ollie Golding are both doing training camps with him.
"That spreads the word as they're both based at the National Tennis Centre - 'Andy gets up at 6am, he's on South Beach running miles and miles until he throws up, he's doing bikram yoga, he's doing weights, he's playing three hours a day….'
"It raises everything. We have the coaches going out there too and they bring it back into the culture and that's what we're trying to do, an ongoing upscaling of our coaches, our players, our culture.
"He's shown how much hard work is needed to get there and I'm really, really grateful to Andy for offering that opportunity to those players, because it goes much wider than just those two."
Smith has a wide-ranging brief as Davis Cup captain as well as the Lawn Tennis Association's head of men's and women's tennis, and is optimistic the recent success of Laura Robson and Heather Watson can mirror the Murray effect among the female juniors.
While the boys have had considerable success at junior Slam level in recent years, there has been little on the girls' side since Robson and Watson came through.
Britain has barely been represented at some Slams, but Smith expects that to change through the likes of Katy Dunne, Eleanor Dean, Katie Boulter and Harriet Dart.
"I think it's great for a younger generation of girls to see Laura and Heather," says Smith. "They are working extremely hard - they're talented, they're good enough, they're poster girls and great role models.
"I'm very confident we'll start to see more junior girls at the Slams, starting next year in Australia.
"It's not the be-all and end-all but again it's healthy to be around good players, used as hitters for the senior players, their coaches go with them and experience it too. There are so many spin-offs."
How to bridge the gap between juniors and seniors is the perennial question in tennis, and it is only getting tougher as the average age of top 100 players continues to rise.
Edmund is among the brightest British hopes and recently won his first senior title at the lowest 'Futures' level in the USA, but the chances of those currently training in Florida rivalling Murray any time soon are slim.
"In terms of timescale, there's not a teenager in the top 200 at the moment," says Smith. "So, realistically, Kyle Edmund is 17 and has got a way to go.
"He is absolutely good enough to get there in the future and if he keeps showing the right attitude, and we keep supporting him in the right way, he's got every chance of doing it. But it's not one or two years - realistically it's going to be four years."