One final push for world's top players

By Jonathan Overend
BBC tennis correspondent
Last updated on .From the section Tennis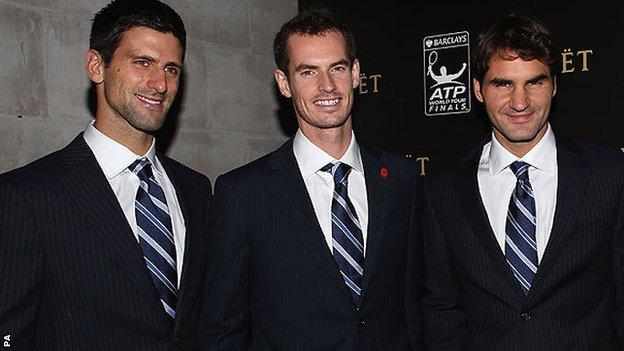 Early afternoon inside the O2 Arena and with people laying carpets, plugging cables and fixing lights around them, Novak Djokovic and Andy Murray traded blows on the blue court, reviving memories of their classic US Open final less than two months ago.
"I can assure you there wasn't the same intensity in that session," joked Murray afterwards. But there was still sufficient quality to remind us which is the preeminent rivalry in the autumn of 2012.
This is the thing about the ATP World Tour Finals; the best in the world come together in one place, for one final push.
This may have been practice, but when the tournament begins on Monday, Murray and Djokovic will continue a rivalry which has since moved from New York to Shanghai (where they played another brilliant, deciding set final) and it would be entirely appropriate if, as well as in the group phase, they met in the final a week on Monday.
Roger Federer will definitely have something to say about that. The defending champion has won this title six times and, after defeat in the final at Basle, he pulled out of the Paris Masters to rest fully for the final week of the season.
His plan? To win Group B comfortably and then take out Murray or Djokovic or - preferably, from his point of view - both. Given his record of finishing the season strongly, who dares to stand in his way?
On Saturday night though, at the Royal Courts of Justice, an interesting insight. Taking the stage alongside Federer and the other qualifiers at the gala opening ceremony, Andy Murray was asked to reflect on his amazing season. "It's all thanks to this guy," he said, patting Federer on the back. "He made me cry at Wimbledon."
It wasn't deliberately patronising, it wasn't premeditated. It was all in good spirit because Murray has enormous respect for the Swiss. It made 400 people laugh, including Roger. But make no mistake, this was not something he would have done a year ago.
Murray, naturally shy, owned the stage at that moment and looked every bit an Olympic champion and Grand Slam winner. It was the first time I have seen him dominate Federer in public, without a tennis racquet in his hand. Read into that what you will.
The second seed in Federer's group, David Ferrer, is still in Paris trying to win his first Masters 1000 title. He plays Jerzy Janowicz in Sunday's final before hot-footing it under the Channel.
Also in that group is Juan Martin Del Potro, about to play his fourth tournament in as many weeks, and Janko Tipsarevic who, I'm told, still isn't feeling great after a bout of dizziness forced him to retire in his quarter-final match in Paris. Richard Gasquet is on site as the first alternate, but tournament officials don't expect him to be called upon.
All the players have been arriving at different times from Paris and with the line-up not finalised until late on Thursday, it's been a logistical headache for the excellent organising team.
Did Juan Monaco get measured for a suit which will never leave the peg? Is Milos Raonic on a giant banner which never leaves an office? What about Nicolas Almagro's page in the programme? At least eight players were still in contention for a place only a few days before the start.
The ATP can't say it didn't see this coming. The decision to back up Paris, the final Masters 1000 event of the year, with the World Tour Finals was taken to help shorten the season.
But rather attempt a meaningful restructure of the calendar, they simply decided to chop out a couple of rest weeks. The big question now is: would that extra week be better served giving the players a break before the World Tour Finals, or turning a six-week off season into a seven-week break?
If this tournament deserves a bit of extra breathing space from ATP high command (a board meeting is scheduled for four days this week), the Paris Masters also needs to know where it stands.
Is it any great surprise that finals weekend arrived in the French capital with only one member of the London field? Federer didn't make the start line, Djokovic lost his first match, Murray his second. This has been a long hard season and much as players want to win every match they play, they have to prioritise.
There's talk of Paris moving to February but that's far from guaranteed. As usual, the task of representing both the players and the tournaments' best interests is proving a tricky tightrope for the ATP to walk. If anything, I expect them to announce a one-year calendar, for 2014 only, while Brad Drewett and his board iron out longer-term issues.
Hopefully the talks will also decide to keep the season finale here in London. As Tomas Berdych suggested the other day, try to fix what is wrong with the tour, not what is right.
The O2 has proved to be the perfect venue for tennis and with Europe dominating the top 10 it makes sense to resist the advances of Rio for a while yet. Let's hope for a fantastic week of tennis!
A final word, if you'll allow me, for Sam Cheetham, one of the speakers at the gala event I talked about earlier. Sam, 14, is indebted, as I was at his age, to Great Ormond Street Hospital. He has a rare lung condition, pulmonary hypertension, which requires constant attention.
Sam wants to be a Formula 1 engineer and spoke of his journey more confidentially than I, as a broadcaster, ever could. You are an inspiration, Sam. Great Ormond Street is the charity supported by the ATP World Tour Finals, which begins on Monday.