Murray, Watson, Robson & Marray provide golden period

By Jonathan Overend
BBC tennis correspondent
Last updated on .From the section Tennis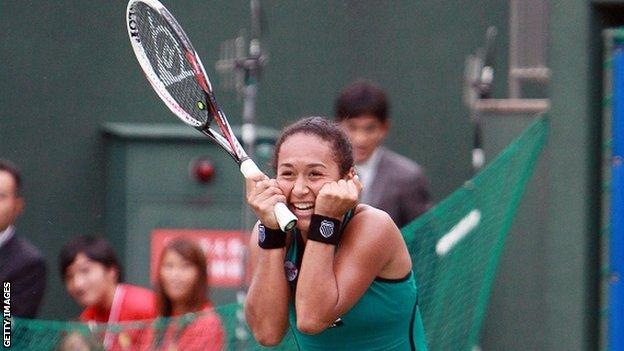 The stories in British tennis have been all too familiar over the past couple of decades - unfulfilled talent, near misses at the majors, juniors failing to deliver on over-generous financial investment - which makes the revival of 2012 so unexpected, so remarkable, so plain brilliant.
In the space of three and a half months:
•Andy Murray has won the US Open, his first Grand Slam and Olympic Gold
•Laura Robson has made her first WTA final, losing to Su-Wei Hsieh at the Guangzhou Open, reached the last 16 of the US Open, and won an Olympic silver medal in the mixed doubles with Murray
•Now Heather Watson has become the first British woman in 24 years to win a top-level tour singles title.
•And don't forget Wimbledon doubles champion Jonny Marray, who won the Wimbledon's men's doubles title with Frederik Nielsen. He started all this!
Today we celebrate the achievement of Heather Watson, the 20-year-old from Guernsey, who beat Chang Kai-chen in the final of the Japan Open in Osaka.
Her opponent may have been lower ranked and she didn't have to beat the best in the world - these are indisputable facts - but that matters not one jot to the ever-smiling Watson. This was all about getting the job done and getting that first top-level trophy. Hopefully the first of many.
Chang had beaten the top-seed, former US Open Champion Sam Stosur, in the semis so deserved her tilt at the title.
Anyone cruel enough to to downgrade the achievement of such a hard-working and single-minded athlete on the basis of the opposition, should do so with due consideration of the mental challenge Watson overcame at crucial periods in her first final.
The disappointment of failing to serve out the match at 5-3 in the second set was potentially crushing. Would that be chance over? When it went one-set all, one feared for Heather in the same way we feared for Andy when the New York final went two-all.
She slipped behind a break in the decider and then, 5-4 down, was a single point from defeat. Anyone who has to face a total of four championship points and then, minutes later, finds the trophy in their hands, deserves enormous praise.
This is a fantastic end to a year which started so badly for Watson.
Going into the Miami event this year, she was despondent. She knew she'd come back from injury too soon at the start of the season and nothing seemed to be going right on the court.
Then, in a startling first-round match, she recovered from 5-0 down final set to beat Sorana Cirstea, the Romanian, and things started moving once more.
Injury, despondency, poor form; such is life on the pro circuit. It's all about how players respond and learn. Do they want to respond? Do they know how? Watson has answered both questions unequivocally.
Out on tour, one tournament after another, there is little time to breathe and take stock with the learning curve so steep it's hardly surprising some fail to get close to the summit.
And this is why, as we broaden the subject to consider whether this is a genuine British tennis revival, the sport of tennis remains such an individual fascination.
Murray, Watson and Robson are all proving that in an individual sport, the individual needs to want it.
Watson has always struck me as someone keen to learn. Her tennis education, at the IMG Bolletieri Academy in Florida, was combined with academic studies. Books under arms in the morning, racquets in hand after lunch. Don't enjoy it? Chance over. That's the thinking out there.
Murray has often considered whether he needs a coach - some of his best results came when he was out there on his own - and then he met Ivan Lendl. He wanted to learn more - he never tires of asking questions, from my experience - and now he's a Grand Slam champion.
Robson also has a new coach this year and on the evidence of New York and Guangzhou, her tennis education continues at a fast-track pace.
At the moment we have three fabulous players - claiming scalps, winning titles, restoring national reputations - and British tennis is undoubtedly in a much healthier state now than a year ago. I believe the best is still to come from all three of them.
But there is insufficient back up to suggest a wholesale change with future success guaranteed. No tidal wave of GB talent is about to takeover the world's top 100 (Murray is alone inside the men's top 200) and the long-term work to fix British tennis must continue as before. We haven't suddenly become world-beaters.
The current feel-good factor is because of the achievements of three individuals.
For all the investment in coaches, support staff and lavish facilities, the only person to save those match points in Osaka was Heather Watson, the only person to serve out for the US Open was Andy Murray and the only person finishing off two Grand Slam Champions in New York was Laura Robson.
So while they can't magic up a long-term solution to the age-old problem of British tennis - a problem which won't be properly solved until the number of kids playing competitively and the number of indoor facilities increase significantly - they can inspire. This has to be the great hope.
As Heather Watson celebrated her latest success in an Osaka bowling alley last night - at least that was the plan - the British flag flies proudly once again on the international tennis scene. Let's make the most of it.
Watson, Robson and Murray are raising spirits and raising standards.
In this most testing of individual sports, hopefully the kids will be inspired to watch more, play more, and - most importantly - keep learning.