Novak Djokovic leads the way in remarkable era

By Jonathan Overend
BBC Radio 5 live
Last updated on .From the section Tennis180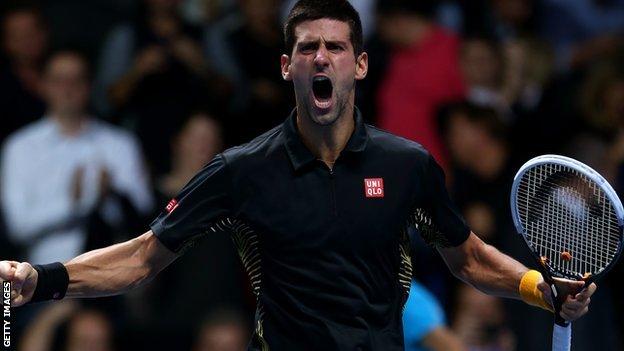 As Novak Djokovic strained every sinew and lurched wide into his backhand corner, almost recklessly sliding on the hard court, we had the perfect summary of what makes this era so remarkable.
That's a get-anything-on-it position. A frame-at-best position. The thought of hitting a winner from there would not have been entertained in previous generations.
And yet, with Roger Federer stretching in vain with his volley attempt, Djokovic was successful with a majestic pass up the line to win the ATP World Tour Finals.
It was quite fitting that the final point of the final match, between the two best players in the world, should be decided by such an incredible shot.
And the Serb totally deserved the title, his second season-ending championship, after coming from behind in both sets. He finished with a run of four successive games as Federer, flustered after fluffing a forehand on one of his two set points, lost a healthy advantage just as Rafael Nadal had against Djokovic in the final set of the Australian Open final.
This is the thing about Djokovic; he's a fighter with a never-say-die attitude. Whatever his body language suggests, he's never out of it.
When he went set point down, Federer serving at 5-4 40-15, he smacked his racket with his hand and looked beaten, just as he did on many occasions late in that Melbourne classic from January.
Yet, back he comes. The resistance and the retaliation.
It makes Andy Murray's achievement in the US Open final, when he broke him mentally and physically in the deciding set, all the more remarkable. One of the many highlights of another unforgettable season.
Murray's breakthrough success in New York was an obvious highlight for British fans at the end of a glorious Olympic summer when the 25-year-old also won singles gold and mixed doubles silver.
Before then, we had Federer's triumph at Wimbledon, his 17th Grand Slam, and Nadal's latest conquest on the clay of Paris - his seventh at Roland Garros.
But it is Djokovic's start to the year in Australia, coupled with the convincing conclusion in London, which makes him the standout performer again.
I hope, when reviewing this season and all it's extraordinary contents, that amazing Melbourne weekend is never forgotten. Djokovic beat Murray in almost five hours in the Friday night semi-final, returning on Sunday night to beat Nadal in almost six hours.
As I wrote here: "Over a 54-hour period, from 7.30pm Friday to 1.30am Monday, he spent almost 11 hours playing incredible tennis against two of the best players in the world."
And the way he finished in London on Monday night, he looked like he could do it all over again.
Finishing two successive seasons as the world number one, considering the standard of opposition, is a phenomenal achievement. And while it was never in doubt last year, as he won three of the four Grand Slams, he had more to contend with in 2012.
His grandfather, Vladimir, to whom he was exceptionally close, passed away in April and his father, Srdjan, while improving, remains in intensive care in Belgrade with respiratory problems.
Djokovic, dedicating his victory to his father, intends to take the World Tour Finals trophy to his bedside in Belgrade before heading to Brazil for an exhibition with Guga Kuerton.
We wish you a full and speedy recovery, Srdjan, because you need to be back out here watching this. Your son is doing incredible things, and so is Roger, so is Andy. We need Rafa back too and I'm sure we'll see him in Australia.
I don't know about you but I'm excited about 2013 already.