Josh Goodall: Great Britain number two may retire in summer
Last updated on .From the section Tennis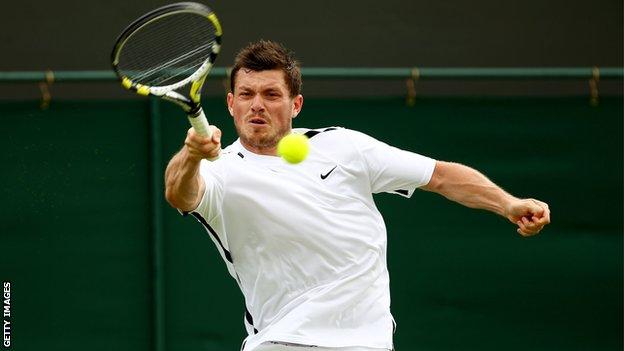 Great Britain's number two tennis player Josh Goodall is considering retiring from the sport next summer because of financial concerns.
Goodall, 27, is ranked at 232 in the world, a massive 229 places lower than number one Briton Andy Murray.
His prize money has averaged around £30,000 for the last eight years.
"If I don't see myself getting closer to the top 150 by next summer I will take a look at what I want to get out of this," Goodall said.
"I'm 27 and I've got bills to pay."
Goodall, who mainly plays on the Challenger and Future tours, has improved his ranking by more than 200 places since last summer and filled in for Murray in the Davis Cup match against Belgium in April.
His income is increased by the Lawn Tennis Association's bonus scheme.
The system is geared towards keeping players in the game longer and gives them extra money based on their performance.
Without the extra £10,000 he earned from the LTA this year, Goodall admits he might not have been able to continue.
He added: "That was a really good decision by the LTA. If I didn't have that I probably wouldn't have been able to afford to carry on playing.
"At Futures and Challenger level the prize money is not high enough. When you're barely breaking even it's difficult to accept, especially when you think tennis is a big sport.
"Playing in the Davis Cup felt like a massive achievement, that all my hard work had paid off, and I played Wimbledon as well.
"I've plateaued a bit at a Challenger ranking but I've been at this level before and I know what I need to do to get to the next level, which is why I'm working so hard."
Goodall reached a career high ranking of 184 in July 2009 and his only ATP win was a 6-4 6-1 victory over Japan's Tatsuma Ito at Eastbourne in the same year.
He made the final of the doubles at the Nottingham Open with Ross Hutchins in 2007 but they were beaten in three sets by Eric Butorac and Jamie Murray.