Andy Murray: Sue Barker recalls sharing the Wimbledon stage
Last updated on .From the section Tennis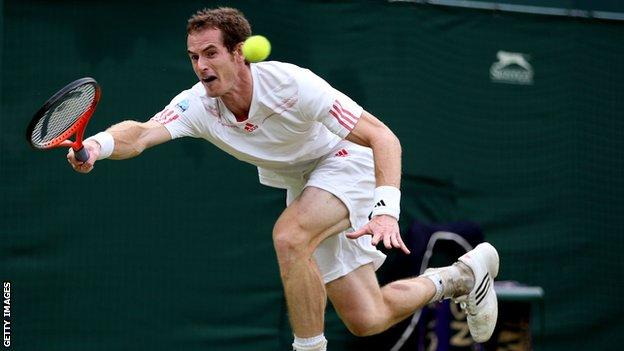 In a year that contained so many sun-drenched winning moments for Britons, Andy Murray's tears in drizzly south London was one of the most memorable.
The defeat was made harder for Murray by the fact it was his first time in the final at SW19 and because he won the first set only to be ruthlessly dispatched by Federer's scintillating performance.
As the Centre Court net was loosened for another year and preparations began to present the trophy to Federer, Murray was struggling to keep his emotions in check.
BBC Sport's Sue Barker then strode onto court to interview the players, not knowing the significance of her upcoming chat with the runner-up.
Barker, who did not watch fellow Briton Virginia Wade win the 1977 tournament because she was so upset by her own semi-final defeat by Betty Stove, recalls speaking to a tearful Murray.
"I was welling up I felt so sorry for Andy," she told BBC Radio 5 live for a programme on Murray's Grand Slam year that will be broadcast at 19:30 GMT on Thursday, 27 December.
"I kept wanting to say that you don't have to do this but in my heart of hearts I thought that 'you really do want to do this'.
"It would have been very easy for me to say 'Andy we'll do it later' but I kept the microphone there because I could see that he wanted to talk and I knew that the people wanted to share it with him. I think he knew that as well."
Murray had previously been accused by some of not showing enough emotion aside from the harsh dressings down he gives himself on the court.
However, the Scot won the hearts of the British nation with his speech despite the fact it came after one of the cruellest defeats.
"The speech he made showed everyone at home who thought he was a hard, heartless competitor what it meant to him," said Barker.
"He showed a real softer side. I thought that he won so many people over that day because all you want from your sportspeople is to give everything."
It showed in the backing Murray received when he returned to Wimbledon later in the summer to take the Olympic title - avenging his defeat by Federer.
Murray then went on to win the US Open in September - ending Britain's long wait for a male Grand Slam singles champion.