Mark Petchey willing to replace Roger Draper as LTA chief
Last updated on .From the section Tennis75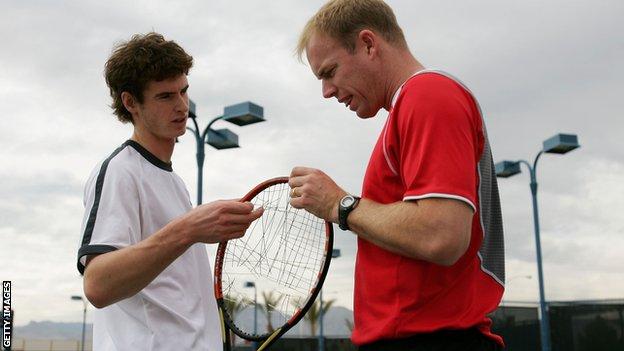 Former British number one Mark Petchey would be willing to replace Roger Draper as Lawn Tennis Association chief - and for "substantially" less money.
Petchey, who used to coach Andy Murray, admits he would relish the job - if he was allowed to do it on his own terms.
"If the LTA board agreed with my vision for British tennis, it's a job I would want to do," Petchey told BBC Sport.
"This would be a massive 24/7 job, but seeing British tennis succeed has always been a passion of mine. And I would do it for substantially less than Roger received this year."
Draper - who received a £200,000 bonus as part of his salary package - was heavily criticised when Sport England announced before Christmas that it would be giving the LTA only one year's grassroots funding.
The number of people playing tennis once a week had fallen from 487,500 in 2008 to 445,100 in 2012, and Sport England chief executive Jennie Price said: "We need to give them a year to step up their game and prove they can deliver."
Petchey, 42, who reached number 80 in the world as a player and coached Croatia's Silvija Talaja to the world's top 20 and Slovenia's Tina Pisnik into the top 30, and also had a spell coaching current British number one Murray, believes British tennis needs to be "turned on its head".
"Very basically, the LTA needs to focus on grassroots, not the elite end of the game," he said. "The lion's share of its money should be directed to the bottom of the game rather than the top.
"So that means investing in clubs and coaches, building more courts and indoor courts and broadening the participation base, looking at schemes like tennis for free. It also means improving the links between local clubs and schools.
"France, Spain and Germany all have a very good club structure but there aren't enough people playing the game in the UK. The salary bill at the LTA is huge and millions have been pumped into performance tennis, which hasn't provided value for money."
The LTA had an average of 311 employees in 2012, spent £13.2m on salaries and more than £600,000 on pension and insurance costs. It also spent £12.3m on performance tennis.
"This is a long journey though - from here it would take about 15 years," warned Petchey, who lives in Cape Town, South Africa, and spends his time commentating for television and coaching his two daughters, who are aged 14 and 11.
Draper has been chief executive of the LTA since 2006. Only the LTA board has the authority to replace him and an LTA spokesman said there was "absolutely no prospect" of this happening.
The spokesman added: "Our focus is participation and the majority of our investment is into the grassroots.
"We've done a lot of work in building club-school links through our clubmark, mini tennis and Aegon Schools programmes."