Colin Fleming doubles win boosts Ross Hutchins
Last updated on .From the section Tennis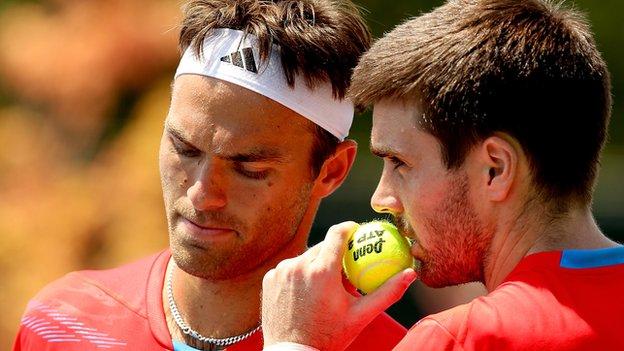 Colin Fleming has won his first tournament since regular doubles partner Ross Hutchins was diagnosed with cancer.
"It's been a tough time," Fleming said.
"Ross can't be here unfortunately, and it's nice to win and send a little message of support to him because it's all about positivity for him."
With Hutchins unable to compete at the Australian Open, Fleming will team up with Jamie Murray in Melbourne.
Fleming, 26, and Hutchins, 27, first played as a doubles team in 2010 and joined forces full-time the following year.
They have won three ATP titles together and narrowly missed out on qualifying for last year's end-of-season ATP World Tour Finals for the top eight in the world.
Hutchins has already said he hopes to be back on court by the end of 2013 after spending the first part of the year being treated for Hodgkin's lymphoma, a cancer of the white blood cells found in the network of vessels and glands throughout the body.
"I speak to him every day," said Fleming. "He wished me luck for the final, as he did for every match.
"He started his chemotherapy on the 10th, so the fight has begun, Rosco's comeback has started and I'm sure he's going to be really strong. He's a really strong and positive person, so he's got all the tools to overcome it."
Hutchins became aware of the illness after struggling with severe back pain that did not respond to physiotherapy.
"Looking back, he obviously had symptoms of this illness but neither of us were to know at the time it was happening," said Fleming.
"As tennis players, if we went to the doctor every time we had a pain it would be ridiculous. I myself have had some back pain this week and have been playing through it.
"It's just a really unfortunate situation, I don't think anyone's to blame."
He added: "Everyone in the tennis world is supporting him and it was just nice to be able to say that to him and to send it home.
"He's got a tough fight ahead but he's very positive and I know he's going to get through it, so it was just a nice moment to be able to do that."