Australian Open: Can Andy Murray win a second Grand Slam?

By Jonathan Overend
BBC Radio 5 live
Last updated on .From the section Tennis141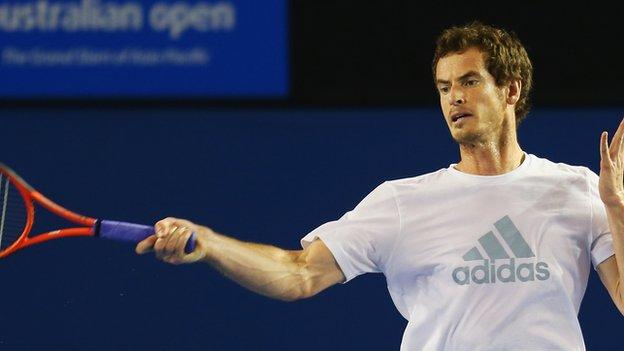 If you have the right badge and you like people watching, there's a corner of a corridor here at Melbourne Park which trumps even the best-placed Parisian pavement cafe.
It's where the Media Zone blends into the Player Zone with nothing more than a friendly steward (who only wants to talk about how great the Olympics were) in between.
Not a bad place to plonk yourself on a Saturday morning; Maria Sharapova, Tomas Berdych, Lleyton Hewitt... Heather Watson smiles broadly as ever, Lindsay Davenport passes with kids and scooters, and Amelie Mauresmo's bag draws the eye - enough Union flags to surely warrant a call from the LTA.
Outside it's a fresh 20 degrees - fresh by Melbourne standards anyway - and a little early drizzle means Andy Murray's morning practice is going on under the Rod Laver Arena roof. It won't take long, so we're informed, for those temperatures to soar this week to a 40 degree peak on Thursday.
Murray looks in great shape as he tries to win a second successive Grand Slam title. History Boy could be re-writing those record books again; no first-time Grand Slam winner since the Open era began in 1968 has won his next major tournament.
But this is the first time he's turned up at a Grand Slam venue without the inevitable "when are you going to win one" questions and this year, I sense, he intends to relax a little, enjoy himself a bit more and just see what being US Open champion can do for him.
Don't forget he has a fine record here in Australia - twice runner-up and an unfortunate losing semi-finalist last year. It wouldn't surprise anyone, British or otherwise, should he lift the trophy for the first time. What a thought.
In the absence of Rafael Nadal, his main rivals will be those familiar foes Novak Djokovic and Roger Federer. Djokovic, defending champion and top seed, is rightly the favourite and it's almost impossible to imagine him losing before the final.
Federer, a beneficiary of cushy draws in recent years, should have trickier tests much earlier with the likes of Milos Raonic and Jo-Wilfried Tsonga in his quarter.
And before that - the story of the moment for our Aussie hosts - Federer could face the enigmatic Bernard Tomic in round three.
Last year, as a 19-year-old, Tomic reached the last 16 and rose to 38 in the rankings. But he flopped for the rest of the year, both surprising and disappointing for someone with undeniable talent.
Now Tomic has won his first ATP title - in Sydney on Saturday - and everyone's getting excited again. The possibility of 'the next big thing' facing Federer over the middle weekend just adds to the hype.
The fact is, even if Tomic gives the number two seed trouble - and that's assuming he gets that far - he still needs to prove he can grind out results in the less glamorous venues of world tennis before he convinces the critics.
Victoria Azarenka is top seed in the women's championship although few, if anyone at all, is daring to bet against the best player in the world for the past seven months: Serena Williams.
The first Australian Open I attended, in 2003, is remembered for the completion of the 'Serena Slam' - four major titles in a row for the American. A decade on, having won Wimbledon and the US Open and being the overwhelming favourite here, she may go to Paris - her second home - looking for Serena Slam Part Deux. Incredible.
Others to watch out for include Agnieszka Radwanska, the Pole, who thumped Dominika Cibulkova 6-0 6-0 in the Sydney final and Li Na, always a favourite in Melbourne, who triumphed in the first week of the season in Shenzhen.
Of the newcomers, Sloane Stephens looks poised for a breakthrough after decent results in Brisbane and Hobart, and another American teen, Madison Keys, is creating a decent buzz and keep an eye on the 16-year-old London-based Croat Donna Vekic in her first full season.
Watson and Laura Robson ensure plenty of British interest in the event, certainly in the first few days and hopefully longer, while Jamie Baker's excellent win through qualifying gives Murray some company.
Baker, 26, has had more setbacks than most pro players would be able to take. At 246 in the world, qualifying for an overseas major is a massive result and one which sets him up for the year ahead. It is due reward for his quiet determination and dedication.
He plays Lukas Rosol, the man who beat Nadal at Wimbledon, in the first round on Tuesday. Of the Brits, only Watson plays on the opening day.
Meanwhile, here in the 5 Live commentary box, we've just finished plugging in all the various cables and microphones ahead of another fortnight of tennis coverage on your radios.
We're particularly excited about Tennis Breakfast - on air Monday from 06:00 GMT - which, you won't be surprised to learn, is a breakfast show all about tennis. We'll have commentary, live guests and a round up of all the overnight action. Join us if you can!