Australian Open 2013: Bernard Tomic teases Roger Federer
By Piers Newbery
BBC Sport at Melbourne Park
Last updated on .From the section Tennis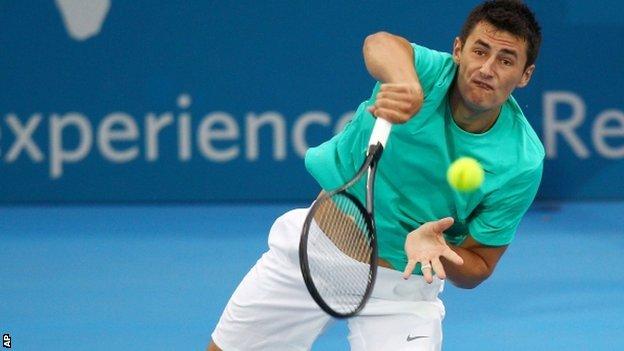 Australian bad boy Bernard Tomic has thrown down the gauntlet to legend Roger Federer ahead of a possible Grand Slam clash this week.
With ability reminiscent of Andy Murray but a mind more in tune with Manchester City striker Mario Balotelli, the level of interest around Tomic here far outstrips a world ranking of 43.
His form, attitude and opinions are examined as though he were a regular Grand Slam contender.
Expectations heightened further over the weekend following his first ATP title in Sydney, and on arriving in Melbourne 24 hours later he was asked about that potential third-round meeting with Federer.
"Well, if he gets that far," was the Australian's response. "I mean the first round is my goal, to beat this guy [Leonardo Mayer]. I do struggle against some guys out there.
"I don't know how this guy can play. If the possibility comes for me to win that first match, I'll look for my next round, which is also tough.
"I would love to get in that position to play Roger in the third round. He has to get there as well. You don't know what can happen. Tennis is a funny sport, so we'll see."
In truth, Tomic - who faces Mayer on Tuesday - was only returning the compliment after Federer said exactly the same the previous day, suggesting the youngster concentrate on his first match.
There is no escaping the sense that Tomic enjoys tweaking the noses of the great and the good, though, whether they be on or off court.
The local news boldly proclaimed that he is the sixth favourite to win the Australian Open, and Tomic himself would probably agree. Only recently, he said: "I'll prove I'm going to be the best-ever player one day to play this game."
Tomic has managed to grab plenty of headlines already in his short career, and not just for a talent that has taken him as far as a Wimbledon quarter-final in 2011, and as low as capitulation against Andy Roddick at the 2012 US Open.
Numerous driving offences, attempting to flee from the police, a brawl on a balcony that did the rounds on YouTube, the obligatory high-profile model girlfriend and subsequent break-up, requesting the umpire in Miami eject his dad from the stands because he was "annoying" - Tomic has been a tabloid's dream.
Not surprisingly, he has proved a divisive figure in Australian tennis circles and was dropped by Davis Cup captain Pat Rafter last year for his behaviour on and off court, and told by Sam Stosur to "knuckle down".
Australian great Paul McNamee came to his defence, saying Tennis Australia was mishandling a prodigious talent, while Pat Cash has backed the official line.
"I agree with what Pat Rafter's done," said the 1987 Wimbledon champion. "You've got to pick players who want to play for your country and want to give 110%. Every Australian would want that.
"His efforts in Germany were not great - he played a fantastic first match and then to not perform, not dig in, was very disappointing. We all have wake-up calls and I think that last year was a transition period for Bernard and people supporting him were saying, 'You've got to fire up a bit here'.
"I think in the long run it will be good for Bernard, for Australian tennis and for the Davis Cup. At the moment, it's a bit of an edgy pill to take."
Like Balotelli, it is the tantalising glimpses of a breathtaking talent that have led people to persevere with Tomic, and the early signs in 2013 are that it is paying off. He is unbeaten in eight matches, including a win over Novak Djokovic at the Hopman Cup, and brimming with confidence.
But we have been here before.
In 2011 he lost, as expected, in a much-anticipated match against Rafael Nadal in Melbourne, and after a strong start to 2012 came up against Federer in the fourth round and was comprehensively schooled by the Swiss.
The wheels then fell off fairly spectacularly for Tomic, who made just three quarter-finals in the rest of the year while falling out with all and sundry.
Asked to describe his 2012, Tomic laughed. "Where should I start?
"I learnt so much. Ups and downs. I had my ups at the start in January but then I had my downs. I'll learn from my downs. Lucky I learnt at my age, 20, not 25 and 28. I'm learning now. This is something really good.
"You can use this in your career. I'm happy I learnt everything and I can use it to get the best potential out of myself."