Australian Open 2013: Laura Robson set for Kvitova clash
By Piers Newbery
BBC Sport at Melbourne Park
Last updated on .From the section Tennis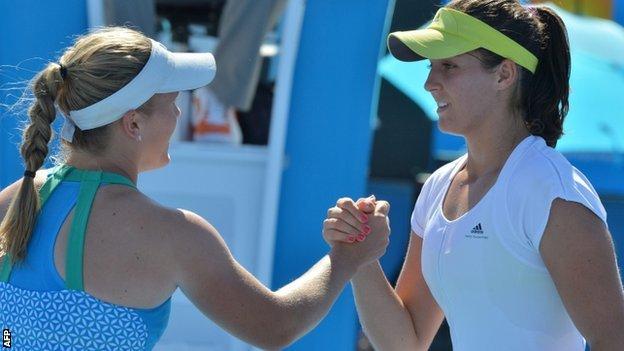 Laura Robson was the least impressed of anyone on Court Three for her first-round win at the Australian Open.
"But how many unforced errors did I make?" she asked the British press, squeezed into Interview Room Two afterwards.
It was a good point. The big shots that have marked her out since she won junior Wimbledon as a 14-year-old were functioning well - the swinging left-handed serve and heavy forehand.
But for the 28 winners there were 30 unforced errors, and Robson is clearly more aware than anyone that these could be her downfall against the top players.
The answer lies with improving her movement, the counterpoint to the easy power she produces when in position.
"I can hit it pretty hard these days but I think the key is moving around the ball enough to get it to where I want it to go every time," she said.
"I just hit a few balls late here and there, where I should have just moved my feet a little bit."
A change of coach and a winter spent training at the Chris Evert Academy in Boca Raton have helped address the issue and raised hopes of an exciting 2013 for the world number 53.
"For once I didn't have a major injury, which was pretty exciting," Robson said of her winter in Florida.
She added: "With all the strength work it's really easy to see the difference in every session. From where I started in Osaka to when I finished, it was a huge difference in virtually all the exercises."
Robson insists that putting in the gruelling work off court is not a problem for her.
"I really enjoy it," she said.
"You feel bad sometimes when you're so overly tired and just struggle to get out of bed, but then once you've completed that day of training you know that you're improving and that it's going to make a difference in the future."
The hope is that injuries including a stomach strain, shin splints, a thigh problem and a stress fracture were part of her growing close to a height of 6ft tall.
Asked if she was still growing, Robson replied: "I hope not. I think enough is enough!"
Robson made her major breakthrough at last year's US Open when she knocked out big names Kim Clijsters and Li Na on he way to the last 16.
With coach Zeljko Krajan on board, the Melbourne-born Londoner then narrowly missed out on becoming the first Briton for 24 years to win a WTA title when she lost in the Guangzhou final - Heather Watson took that accolade soon after at the Japan Open.
A much-anticipated second-round match against former Wimbledon champion Petra Kvitova looms for Robson on Thursday, but her focus is not solely on another Grand Slam run.
"I think it's good that I've always managed to play well in the Slams," she said, "but I think ideally I'd like to play a bit more consistently in the smaller tournaments as well.
"That's something that I need to work on. In Slams it's very easy to go on court with nothing to lose, and I always have great support, so it's very easy to play at Slams.
"But consistency throughout the year is what really counts."
And away from the court, Robson's sideline in video production will get another run-out in 2013.
The Briton teamed up with Canadian player Genie Bouchard last year to create a Gangnam Style video that included the likes of Maria Sharapova, Sam Stosur and Jo-Wilfried Tsonga.
It took Robson six hours to edit, and she plans between two and four more this year.
As she said: "You can't overdo it."