Australian Open: Roger Federer beats Nikolay Davydenko
Last updated on .From the section Tennis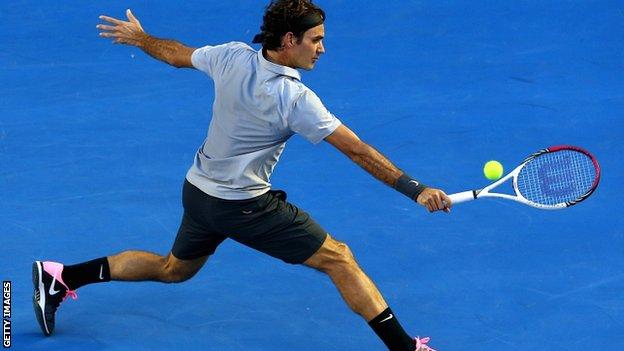 Wimbledon champion Roger Federer coasted into round three of the Australian Open with a 6-3 6-4 6-4 victory over Russian Nikolay Davydenko.
The 2010 winner, seeking his fifth Australian title, sealed the match in only 119 minutes with an ace.
He will now meet the only Australian left in the draw, Bernard Tomic, who beat Daniel Brands 6-7 7-5 7-6 7-6.
Sixth seed Juan Martin del Potro also went through after beating German Benjamin Becker in straight sets.
Federer extended his record against former world number three Davydenko to 18 wins out of 20 with another composed performance, breaking in the sixth game to take the opening set in 42 minutes.
He added the second in the same time after breaking Davydenko's opening service game, sealing the set with a sweetly-timed cross-court forehand.
Davydenko, now ranked 40th in the world, double-faulted to lose his serve in the first game of the third set and Federer unveiled some classic strokes, a backhand at full stretch down the line particularly memorable.
The 31-year-old Swiss faces an intriguing match on Saturday against German-born Australian Tomic, the precocious 20-year-old he beat in straight sets in the second round of last year's Championship.
Tomic sparked some controversy this week when asked about the prospect of facing Federer in round three by responding: "If he gets there."
The combative world number 43 had a very different path to round three, needing almost three hours to see off Brands, ranked 120.
However, Tomic has now won 10 successive matches this year, including victory over world number one Novak Djokovic at the non-sanctioned Hopman Cup in Perth and said: "I feel so confident. This is the perfect time to play him.
"I've got a lot more things to prove to myself. That's the most important thing. I'm not going to stop here. It doesn't satisfy me. Winning last week and being on this winning streak doesn't satisfy me.
"I want to win Grand Slams."
Federer, who has 17 Grand Slam titles, said: "It's nice to see Bernard playing better again. He had a rough end to the season last year, but he's had a wonderful start this year and I hope he can keep it up and crack the big rankings.
"It's going to be an exciting match. I have got to play tough. I don't mind the physical aspects and maybe that is an advantage for me. I will always play aggressively but we will try to move each other around a bit so it will need a bit more finesse."