Novak Djokovic reaches Australian Open last 16: round-up
Last updated on .From the section Tennis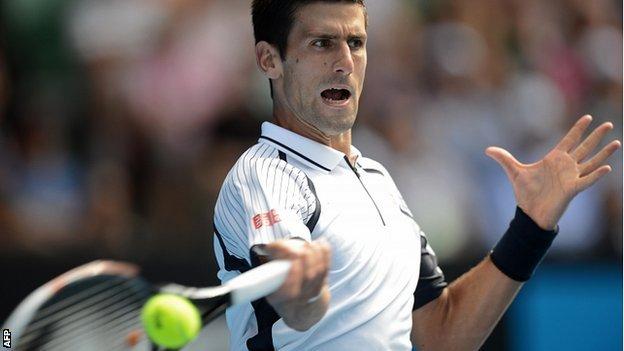 Novak Djokovic and Maria Sharapova both won their third round matches to reach the last 16 of the Australian Open.
Djokovic came through a tricky encounter against sparky Czech veteran Radek Stepanek 6-4 6-3 7-5 to maintain his bid to become the first player since tennis became professional in 1969 to win three straight Australian Open titles.
Sharapova, the 2008 Melbourne champion, demolished seven-time Grand Slam winner Venus Williams 6-1 6-3 to stay on course for a second successive Australian Open final.
Rod Laver Arena
Novak Djokovic (Ser) beats Radek Stepanek (Cze) 6-4 6-3 7-5
Serbia's Djokovic was made to work hard for his points as he battled into the fourth round, taking two hours 22 minutes to overcome the entertaining Stepanek.
Stepanek, the 31st seed, charged the net 67 times and combined for some thrilling and unconventional rallies with the top seed.
"It was a great match, great fun," said Djokovic.
"He is a very talented player, very skilful. He made a lot of great first volleys and made me play the extra ball.
"He was chipping and charging, not a lot of players do this any more. A lot of the players stay on the baseline."
Djokovic, 25, will next play Swiss 15th seed Stanislas Wawrinka, who beat American Sam Querrey in straight sets.
"I have played well in the first few rounds, slowly getting into my rhythm," he said.
"I can play better but I cannot be dissatisfied with my performances."
Angelique Kerber [5] (Ger) beat Madison Keys (USA) 6-2 7-5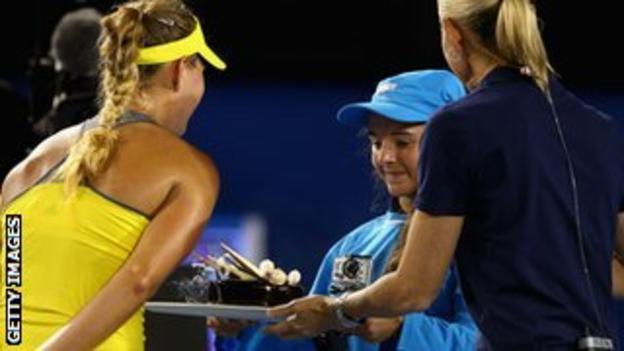 World number five Angelique Kerber of Germany celebrated her 25th birthday with a win over the 17-year-old Keys and was handed a cake with candles during her post-match interview.
"It was a very tough match because Madison is a great young player," said Kerber. "I was just trying to focus point by point and I'm so happy to win on my birthday."
Kerber, who has never been beyond the third round at Melbourne Park, meets 19th seeded Russian Ekaterina Makarova, who beat 11th seeded Frenchwoman Marion Bartoli 6-7 6-3 6-4.
Li Na [6] (Chi) beat Sorana Cirstea [27] (Rom) 6-4 6-1
China's sixth seed Li Na, a finalist at Melbourne Park in 2011, breezed past Romania's Sorana Cirstea in 71 minutes and will next play 18th-seeded German Julia Goerges, who beat Li's compatriot Zheng Jie in their third round clash.
Maria Sharapova [2] (Rus) beat Venus Williams [25] (USA) 6-1 6-3
Second seed Sharapova thrashed Williams in the first heavyweight clash of this year's Australian Open.
The Russian, 25, hammered the American seven-time Grand Slam champion 6-1 6-3 in only 76 minutes, and has lost just four games in three rounds.
Next she will meet Belgian Kirsten Flipkens in the last 16.
"I was a really determined player out there because I knew the tennis that she's capable of producing and playing," said Sharapova.
"Despite what she's ranked or seeded, it doesn't matter when you go out on the court. She's been there.
"She's experienced enough to know no matter if you're playing the third round, the quarters, or the final, you have to be ready. I certainly was. Since the draw came out, I was really looking forward to that match-up."
David Ferrer [4] (Spa) beat Marcos Baghdatis [28] (Cyp) 6-4 6-2 6-3
The Spanish fourth seed booked a last-16 meeting with Japan's Kei Nishikori with a a routine victory over former Melbourne finalist.
"It's going to be tough," Ferrer said. "I lost a close game with him at the Olympics. He has good shots with great power."
Britwatch
Agnieszka Radwanska [4] (Pol) beat Heather Watson (GB) 6-3 6-1
British number one Heather Watson's Australian Open adventure came to an end at the hands of the clinical fourth seed Agnieszka Radwanska. The 20-year-old Watson found last year's Wimbledon finalist a class above as she relented in 84 minutes.
Watson was broken three times in the first set but showed glimpses of her refusal to give in with a break of her own in game eight. But the second set was a different story, and with the roof closed because of rain, Radwanska closed out victory in impressive fashion.
"I'm extremely happy to be playing my best tennis from the beginning of the year," said Radwanska, who is on a 12-match winning streak after winning tournaments in Auckland and Sydney before coming to Melbourne. "Hopefully I'll play on the same level the rest of the tournament."
Hisense Arena
Ana Ivanovic [13] (Ser) beat Jelena Jankovic [22] (Ser) 7-5 6-3
The 25-year old Ivanovic came out top of the all-Serbian former number one clash despite squandering a 5-2 lead in the first set.
Ivanovic, the 2008 French Open champion, said the pair's rivalry is just as intense but admitted to a thawing during the Fed Cup.
"It's competitiveness," said Ivanovic, who will next meet Radwanska. "You have that with everyone you play - and especially someone coming from your country. We were (once) both looking for the number one position and to win a Grand Slam.
"Of course there is going to be rivalry, but I think there is healthy rivalry too because you kind of push each other."
Kevin Anderson (SA) beat Fernando Verdasco [22] (Spa) 4-6 6-3 4-6 7-6 6-2
Tomas Berdych [5] (Cze) beat Jurgen Melzer [26] (Aut) 6-3 6-2 6-2
Berdych enjoyed a routine win over veteran Melzer and will go on to meet South Africa's Anderson, with a quarter-final clash against Djokovic likely to be on the line.
"Kevin Anderson has a huge serve so it could be like playing against myself," said Berdych of Anderson, who caused an upset be defeating Spanish 22nd seed Verdasco in five sets.
Margaret Court Arena
Ekaterina Makarova (Rus) beat Marion Bartoli (Fra) 6-7 6-3 6-4
Janko Tipsarevic [8] (Serbia) beat Julien Benneteau [32] (France) 3-6 6-4 2-6 6-4 6-3
Tipsarevic finally overcame the tiring Benneteau to fix up a clash with Spain's Nicolas Almagro, who beat Poland's Jerzy Janowicz 7-6 7-6 6-1.
"The weather in Australia, I have to say it's crazy," said Tipsarevic. "Today was beautiful, but it was really, really windy. Who knows what's going to happen tomorrow? Probably we'll have rain and we're going to end up playing indoors."
Stanislas Wawrinka [15] (Sui) beat Sam Querrey [20] (USA) 7-6 (8-6) 7-5 6-4
Crazy Jerzy
Jerzy Janowicz was hit with a US$2,500 fine on Friday for an extraordinary rant at officials.
The Pole dropped to his knees and repeatedly yelled "How many times?" as he disputed a line-call during his second-round win over India's Somdev Devvarman, and also hit the umpire's chair with his racquet.
Janowicz later admitted he "went nuts" during the incident on Wednesday.
"Sometimes it happens like this. Sometimes I have a problem to control my emotions, but I'm trying to work on this," he said.
Tennis reacts to Lance Armstrong confession
Novak Djokovic: "I think it's a disgrace for the sport to have an athlete like this. He cheated the sport. He cheated many people around the world with his career, with his life story. I think they should take all his titles away because it's not fair towards any sportsman, any athlete. It's just not the way to be successful. So I think he should suffer for his lies all these years."
Maria Sharapova: "I think it's just a really sad story, sad for that sport itself. I'm happy that our sport is as clean as it can be and that we're constantly tested. You know, we give whereabouts of where we are every single day of the year. Hopefully not on birthdays and Christmas Eve, that would be pretty tough. Although they did show up on my birthday and I was very disappointed. They did a couple of years ago. I said 'unless you bring flowers, I'm OK with it'. But they came empty handed. So, as long as we're getting tested, whatever it takes, urine, blood, we're all here to make the sport as clean as it can be."
Venus Williams: "I can't talk about anything I don't know anything about, so I'm just going to keep my mouth shut. I'm not an expert on that stuff. That's all I can say."