Novak Djokovic beats Stanislas Wawrinka in Australian Open epic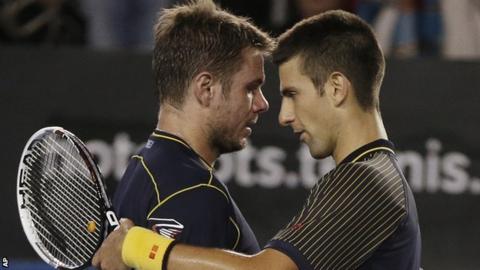 Australian Open
Venue:

Melbourne Park

Date:

14-27 January

Coverage:

BBC Sport website (daily live text commentaries), Radio 5 live (commentaries) & TV/online streaming (both finals)
Defending champion Novak Djokovic withstood a barrage of brilliance from Stanislas Wawrinka with a stunning five-hour win at the Australian Open.
The world number one came back from 6-1 5-2 down to win 1-6 7-5 6-4 6-7 (5-7) 12-10 in an electrifying night session on Rod Laver Arena.
An epic deciding set finally came to an end at 1.41am when Djokovic swept a cross-court backhand past Wawrinka at the net.
Djokovic, who will meet Tomas Berdych in the quarter-finals, has now won 18 successive matches at Melbourne Park, a run that includes the near-six-hour final victory over Rafael Nadal in 2012.
"It definitely ranks right at the top," said Djokovic, when asked to rate the victory over Wawrinka. "One of the longest, most interesting, and most exciting matches I have played in my career.
"Even though I was 6-1 5-2 down, I believed that I can come back if I am two sets down. I've been in those situations before. I was just outplayed by my opponent. He was better on the court for the first hour and a half, no question about it.
"In these circumstances, when you're not playing the way you want to play, you just try to fight and hope for the best."
Djokovic, 25, is trying to become the first man since the Open era began in 1968 to win three Australian titles in succession.
That looked a forlorn hope after an hour of truly stunning play from Wawrinka, Switzerland's world number 17 firing flashing backhands and heavy serves as he took the first set in just 25 minutes and went 5-2 up in the second.
Amid incredulity among the 15,000 spectators, a subdued Djokovic was left scrambling for his footing as Wawrinka's winners total ticked into the 20s.
A kindly net cord moved Wawrinka to within two points of a two-sets lead at 5-3 - but then the nerves took hold.
The flowing winners were replaced by a more tentative jousting that was just what Djokovic needed, and it was clear who was the more likely to break down as the rallies lengthened.
Four errors in a row allowed Djokovic back into the set and he did not waste the opportunity, a forehand winner giving him a second break soon after and with it the set.
The match was suddenly slipping away from Wawrinka, and Djokovic drove the point home by taking the third with a stunning rally that he dominated on the forehand.
Wawrinka, who beat Andy Murray at the US Open in 2010, missed early break points in the fourth but played a strong tie-break, winning it with a forehand into the corner to force a decider.
Again, the pair swapped breaks at the start before the match settled into a dramatic closing stage.
Wawrinka's first double fault of the match at 4-3 offered up another break point, only for Djokovic to net a regulation forehand.
The Swiss then saw four chances go begging in the following game, three of them with errors, as both players had glimpses of the finish line.
With thoughts of last year's final in everyone's mind, the prospect of a result diminished for a while as both men held comfortably, but it was Djokovic who roused himself for one last charge.
Two more wonderful winners from the Wawrinka single-hander kept Djokovic at bay, but the top seed converted his third.
He clipped a backhand across the incoming Swiss, who fell to the ground as the ball passed him, and moments later Djokovic was ripping his shirt off in celebration.
"I think it's by far the best match I've ever played, especially in five sets against the number one player," said Wawrinka.
"Especially as I was dealing with myself all the five hours, trying to always find a solution, trying to always fight against myself and against him to stay with him.
"At the end I was really, really close. For sure I'm really sad. It's a big disappointment to lose that match, but I think there are more positives than negatives."