Tennis to step up drug fight in light of Lance Armstrong scandal
Last updated on .From the section Tennis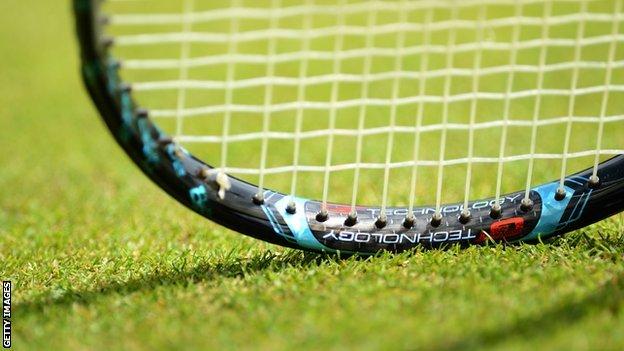 Lance Armstrong's admission that he took drugs to help him win all seven of his Tour de France titles has put performance-enhancing substances in the spotlight.
Now tennis has been brought into the debate with former world number four Guy Forget claiming he was beaten by rivals who took drugs.
Three players - Ryan Newport from the United States, Bulgarian Dimitar Kutrovsky and Italian Filippo Calorosi - are currently suspended from playing for taking drugs and Forget believes they are not the only men on the circuit guilty of doping.
BBC Sport speaks to current and ex players, coaches and officials in charge of testing to try and discover if tennis has a drug problem.
Drugs in tennis
The Men's Tennis Council began drug testing in the late 1980s with the focus mainly on recreational drugs. The testing was extended to include performance-enhancing drugs when the ATP Tour was formed in 1990.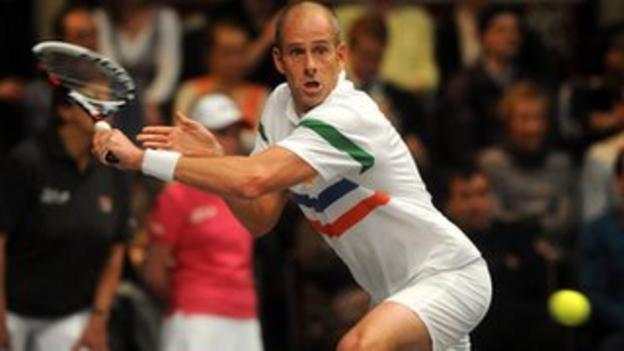 But Guy Forget, who was ranked the fourth best player in the world in 1991, is convinced he played against players who were doping.
He says: "I have lost matches against guys who beat me with an unfair advantage because they were taking drugs.
"For sure, it has happened. I can look at myself in the mirror knowing I have never taken anything.
"When I played there were no controls at all so why wouldn't you cheat the system."
The situation now
The International Tennis Federation (ITF) now leads a unified Tennis Anti-Doping Programme applying across all tennis events.
The ITF carried out 131 blood tests both in and out of competition in 2011, the last year for which figures are available. That was alongside 2,019 urine tests.
Now the ITF is planning to introduce an athlete biological passport (ABP) which allows officials to collect and compare biological data and spot variances that suggest doping.
It is an improvement many in the game believe is needed.
Forget added: "I don't feel our sport is clean. I am sure now as we speak there are some guys that are cheating. You cannot say tennis is not touched by this poisonous thing.
"I think it is a minority probably, but that is why Roger Federer and the other guys says we should put more money into blood test and controls because we should fight this any way we can."
Australian coach Darren Cahill, who has coached Lleyton Hewitt and Andre Agassi in the past, says on Twitter: "Our testing program is inadequate. That's why no-one can stand up and speak out. It's gone backwards in recent years."
Current world number one Novak Djokovic recently complained the number of blood tests he has undergone has dropped in the last year.
He said: "I wasn't tested with blood for last six, seven months. It was more regularly in last two, three years ago. I don't know the reason why they stopped it."
Fighting back
Dr. Stuart Miller, who oversees the ITF's anti-doping programme, claims education as much as detection is the best way to cure the problems of drugs in sport.
But he is an advocate of plans to bring in an ABP to make it easier to find the drug cheats.
Miller says: "We think we can improve by introducing what is known as the athlete biological passport, which is a blood-based testing programme which allows you to establish individual baseline parameters.
"That is not in operation at the moment. But we're looking very, very closely at it and I think that there's a reasonably good chance that that will be operational probably towards the end of 2013.
"It takes a long time to set up. There's a number of constraints and conditions that you have to satisfy, you can't just turn a switch."
Miller went on to answer Forget's complaints.
"I think we need to put a couple of things into context," he said. "Firstly I think Forget answered his own question when he said back at the time when he was playing, anti-doping was very different.
"There was no such thing as the World Anti-Doping Agency, there was no list of prohibited substances that all the sports signed up to and actually tennis was one of the pioneering sports in introducing anti-doping testing back in Forget's time.
"Granted, it was for a different list of prohibited substances - it was mainly recreational substances - and he's right, there wasn't as much testing, but tennis was pioneering at that particular time. And it's come a long way since that time, when he was playing."
Is tennis clean?
The leading players have thrown their support behind initiatives to weed out rivals who use drugs to enhance their performance but many are content that the sport is not on a par with the level of doping that has been uncovered in cycling.
World number three Andy Murray says: "I think all sports are trying to improve their doping controls.
"If that's more blood testing or the biological passports, that's something we need to do and improve in tennis, as well.
Four time grand slam winner Maria Sharapova is confident she is competing on a level playing field.
The Russian says: "I feel tennis is clean, I do very much. For the amount of times that we get tested throughout the year and as random as they are, definitely."
Tennis great Martina Navratilova, who won 18 Grand Slam titles, accepts doping has taken place in tennis but not a large degree.
She says: "There is very stringent drug testing going on and it has to be done, because there obviously has been some cheating going on as a few people have been caught.
"But overall, I think we have a pretty clean sport. You know that Roger Federer or Rafael Nadal or any of those guys wouldn't do anything like what Lance Armstrong was doing.
"I think tennis is doing a pretty good job, at least from what I see."