Novak Djokovic beats Tomas Berdych to reach semi-finals

By Piers Newbery
BBC Sport at Melbourne Park
Last updated on .From the section Tennis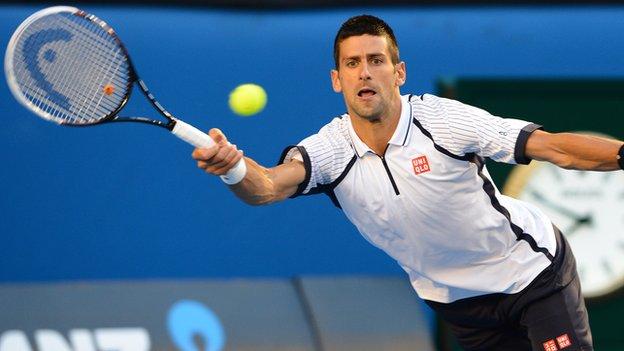 Novak Djokovic returned to action 48 hours after playing a five-hour epic to beat fifth seed Tomas Berdych in the Australian Open quarter-finals.
The defending champion and world number one came through 6-1 4-6 6-1 6-4 in two hours and 31 minutes on the Rod Laver Arena, and then said: "I felt good enough to go another five hours."
He added: "People who don't know tennis, who have never been in those kinds of situations, would not truly understand what the player has to go through - not just when you prepare for a Grand Slam, but also during a Grand Slam.
"After five hours of a match, you need to really put a lot of time into recovery, different kind of recoveries.
"I understand that many people have many different views and opinions, and I respect that. But I'm doing everything that is legal, that is correct, that is natural that I can, possibly can in my power, and it's working well."
After watching Djokovic spend five hours and two minutes seeing off Stanislas Wawrinka in round four, Berdych presumably planned to get the world number one on the run from the outset.
The Serbian was having none of it. Moving as freely as ever, he rattled through the first set in 28 minutes.
A heavy cross-court forehand and a measured backhand down the line made the breakthrough in game three and a compliant Berdych gave up the set with a double fault.
With just one win in their previous 12 matches, Berdych needed a helping hand, and Djokovic provided it at the start of the second by allowing the Czech to break when his first serve deserted him.
Two chances for the double-break slipped by in game five, and a sharp backhand return winner brought up a set point at 5-3, but in the end Berdych had to come through a desperately nervous service game to take the set.
Facing four break-back points, he came up with an ace and two winners smack on the line, before Djokovic went narrowly wide with a forehand.
After nearly an hour and a half, the world number six had worked his way into the match - but within a few minutes he had fallen behind again.
Djokovic lifted a beautiful lob over the 6ft 5in Czech to earn two break points early in the third, and converted the second when Berdych thumped a forehand long.
A backhand winner made it 4-0 and, serving at 5-1, 15-30, the top seed won a fabulous rally with an angled volley to put the stamp on a second 28-minute set.
Melbourne Park had witnessed several five-set thrillers in recent days, but Tuesday's night crowd was going to miss out on similar excitement.
Djokovic was sliding and stretching along the baseline as well as ever, always demanding one more shot from Berdych, and the Czech duly cracked under the pressure with a wayward forehand early in the fourth.
So comfortable was Djokovic by this stage that he gave Berdych another first serve after the Czech was disrupted by a shout from the crowd in game five - winning the three-time champion more favour from the 15,000 spectators.
Djokovic closed out the win with an ace on his fourth match point in a tense final game, but decided against the shirt-ripping celebration of Sunday night after what had been a more routine evening's work.
"I've seen him play way better," admitted Berdych. "He played really good today but the matches before he played much, much better.
"It was kind of a chance for me, but I didn't come up with my best game and that's what was deciding today."