Roger Federer beats Jo-Wilfried Tsonga in Australian Open thriller
Last updated on .From the section Tennis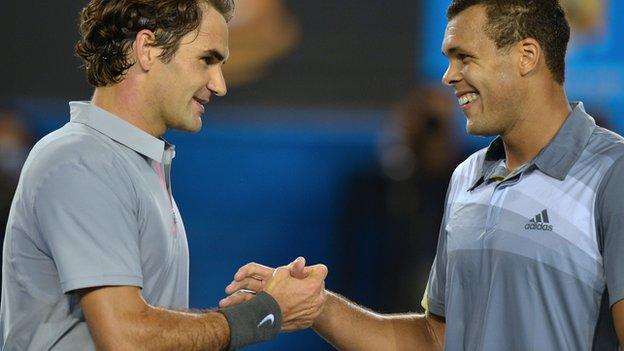 Roger Federer beat Frenchman Jo-Wilfried Tsonga in a five-set thriller in the quarter-final of the Australian Open.
He will now face Britain's Andy Murray in Friday's semi.
The second-seeded Swiss finally overcame Tsonga 7-6 (7-4) 4-6 7-6 (7-4) 3-6 6-3 in an epic three hours, 34 minute battle at Melbourne Park.
Defending champion Victoria Azarenka saw off a spirited Svetlana Kuznetsova to secure her place in the semi-finals.
She will face Sloane Stephens in the last four after the teenager beat five-time Australian Open champion Serena Williams in her maiden Grand Slam quarter-final.
In the remaining men's quarter-final matches, Britain's Andy Murray thrashed unseeded Jeremy Chardy of France.
Rod Laver Arena
Roger Federer (Swi) [2] beat Jo-Wilfried Tsonga (Fra) [7] 7-6 (7-4) 4-6 7-6 (7-4) 3-6 6-3
Federer hadn't dropped a service game in his first four rounds but Tsonga ended that streak by breaking him the sixth game.
The four-time Australian Open champion was taken to a tie-break in the first set of his 35th consecutive Grand Slam quarter-final.
He held his nerve to take it 7-4 against the 2008 Australian Open finalist but seventh seed Tsonga served brilliantly to hit back and take the second 6-4.
The 17-time Grand Slam champion replied by winning another tie-break in the third but once again Tsonga battled back.
His big serve and forceful groundstrokes forced Federer on the back foot and Tsonga took the fourth set 6-3 to level the game.
The 31-year-old Swiss broke his opponent early on in the fifth but Tsonga refused to give in, saving four match points at 5-2 before eventually succumbing in three hours, 34 minutes.
Federer goes through to face Andy Murray in his 10th consecutive Australian Open semi-final.
"In the fifth you never know where it goes, so you feel like you need to step it up once more," said Federer. "I was able to do that and get the first break.
"I also had opportunities and it was close. I had to be really patient and play well until the finish.
"I'm very happy. It was a good match. I could have lost it so, in the end, I'm just happy I won in five."
Murray v Federer in the semi-final will be live on BBC Two, the BBC Sport website and BBC Radio 5 live from 08:15 GMT on Friday.
Victoria Azarenka (Blr) [1] beat Svetlana Kuznetsova (Rus) 7-5 6-1
The defending champion fought back from 4-1 down in the first set to see off her spirited opponent and secure her place in the semi-finals with her 12th successive win in Melbourne.
The Belarusian looked in trouble in the first set as she struggled to cope with Kuznetsova's mix of clever angles and raw power.
But Azarenka found her form and broke the two-time Grand Slam champion in the 11th game to take the lead for the first time.
The top seed then took the set at the third time of asking after an hour and 17 minutes of gritty action.
The second set was a much simpler affair as Kuznetsova, who is making her way back in the game after knee surgery, failed to produce the quality she displayed in the opener.
"She played really well throughout the whole match," said Azarenka, who faces Sloane Stephens in the semi-finals on Thursday. "I know what kind of tennis she is capable of and in the beginning it took a little bit of adjustment because she has a very different game.
"I am glad I could produce my best tennis when it was needed."
Sloane Stephens (USA) [29] beat Serena Williams (US) [3] 3-6 7-5 6-4
The 19-year-old Stephens caused a major upset by knocking out the 15-time Grand Slam winner.
Williams needed medical treatment for a back spasm in the second set and her fellow American made the most of her opportunity to clinch her maiden Grand Slam quarter-final victory.
Andy Murray (GB) [3] beat Jeremy Chardy (Fra) 6-4 6-1 6-2
The British number one needed only one hour and 51 minutes to see off the challenge of Chardy and reach his fourth successive Australian Open semi-final.
Britwatch
Men's singles: Andy Murray (GB) [3] beat Jeremy Chardy (Fra) 6-4 6-1 6-2
Junior girls' singles: Katy Dunne (GB) [13] lost to Elizaveta Kulichkova (Rus) 6-3 6-4
Quad wheelchair singles: Andrew Lapthorne (GB) [2] beat Nicholas Taylor (US) 7-6 (7-5) 6-2
Lapthorne, who won Paralympic doubles silver at London 2012 alongside Peter Norfolk, will also face American David Wagner and Sweden's Anders Hard in the event.
Women's wheelchair singles: Lucy Shuker (GB) beat Daniela di Toro (Aus) 2-6 6-4 6-4
Shuker fought back from losing the first set to clinch her place in the semi-finals, where she will face German second seed Sabine Ellerbrook.
Quotes of the day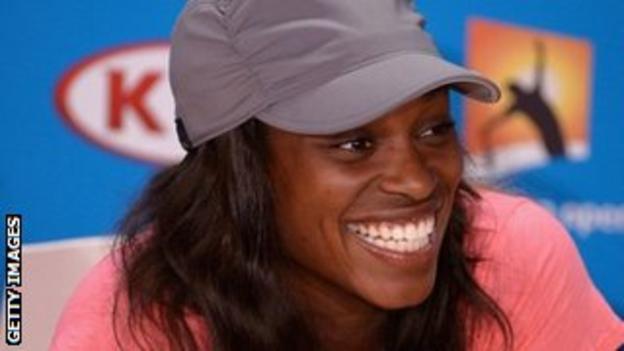 Sloane Stephens on looking at her phone on court after the match - "I couldn't really do anything because the messages were coming in, so I couldn't read like anything. I was like, wait, this is pointless. So I just put it down."
Serena Williams takes some comfort from her shock defeat in one of her great racquet-smashing efforts. "Did you see it? I even had a wry smile on my lips after that. It made me happy, unfortunately."
"I'm not a morning person," says Victoria Azarenka, "but when I don't have a choice, I don't have a choice. I have to play. If it would be my choice, I wouldn't be waking up before 11am!"
Andy Murray is not overly concerned that he has yet to play a night match on Rod Laver Arena. "I also would have put Federer against Tsonga on as the night match tonight because it's the best match of the day."
Jeremy Chardy does not appear to have a Plan B for next time he faces Andy Murray - "It's tough to lose with no solution."
Jo-Wilfried Tsonga was asked why there were more upsets in the women's draw than the men's. He was joking. We think. "You know, the girls, they are more unstable emotionally than us. I'm sure everybody will say it's true even the girls (laughter). No? No, you don't think? I mean, it's just about hormones and all this stuff. We don't have all these bad things, so we are physically in a good shape every time, and you are not. That's it."