Sloane Stephens enters the big time with win over Serena Williams
By Piers Newbery
BBC Sport at Melbourne Park
Last updated on .From the section Tennis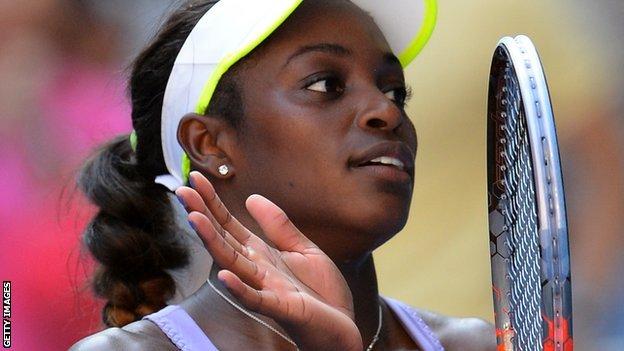 After Sloane Stephens beat Laura Robson at the Australian Open on a raucous outside court last week, the American had a glimpse of her future.
"I don't think we'll play that court ever again," said the 19-year-old American. "We're turning into the Federer-Nadal rivalry."
It was said with a beaming smile, but Stephens was right about one thing. She is unlikely to be back there any time soon.
Robson, also 19, had already made her Grand Slam breakthrough by reaching the fourth round of the US Open last year, picking off Kim Clijsters and Li Na along the way.
But while that run made headlines in the UK and wider tennis scene, Stephens blasted her way on to back pages the world over on Wednesday when she claimed the biggest scalp in tennis - Serena Williams.
Stephens immediately hurried over to check the messages on her phone, saying afterwards: "I couldn't really do anything because the messages were coming in, so I couldn't read anything. I was like, 'Wait, this is pointless. So I just put it down.'"
Meanwhile, the likes of NBA stars Shaquille O'Neal and Dirk Nowitzki, and singer John Legend, got in touch via Twitter. Star power.
The win itself broke a run of 20 straight victories for Williams stretching back to August, and ended her hopes of a second 'Serena Slam' after winning Wimbledon and the US Open in 2012, as well as the Olympics.
There were few who believed anyone could beat her in Melbourne, and if there was to be an upset it would surely come from world number one Victoria Azarenka or serial slam winner Maria Sharapova.
In the event, 29th seed Stephens remained calm and consistent enough to put Williams away, while the 15-time Grand Slam champion was enduring racquet-smashing frustration as her body let her down.
The 31-year-old faded in the presence of a youngster she has struck up a strong relationship with since they first met four years ago.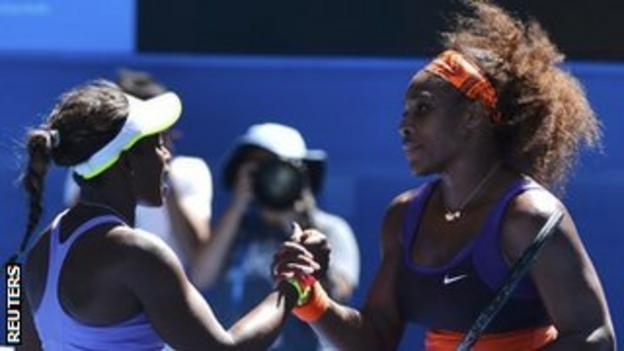 "I saw her in the locker room," Williams said earlier in the tournament when recalling their first meeting. "She was another black girl. I was like, 'Hey!' That's when I first noticed her. 'What up, girl?'"
Asked to describe her relationship with Williams, the teenager said: "Normal. We just talk whenever we see each other. Yesterday she told me I was too quiet on the court. Then today I was thinking to myself, 'I'm really loud. Should I tone it down a little bit?'
"But, I mean, no, just normal. Just friendly stuff."
Stephens happily brushed off shouts of "Hey! Serena!" during her early matches and practice sessions in Melbourne from spectators unaware that there are more than two African-American women in tennis.
That is an issue Williams has dealt with since turning professional in 1995, but she baulked at the suggestion she was a mentor for Stephens, saying presciently: "It's hard to be a real mentor when you're still in competition."
The similarities do not extend far beyond the cosmetic.
Serena and sister Venus famously grew up in the tough Compton district of Los Angeles and were taught the game by their father Richard.
Stephens was born in Plantation, Florida, and was introduced to tennis by her mother, Sybil, at the age of nine. She attended the nearby Saviano Tennis Academy, becoming friends with Britain's Robson around the age of 11, and went on to win several Grand Slam junior doubles titles.
The sporting heritage in her family was strong; her mother was an All-American swimmer and her estranged father, John, was a running back for the New England Patriots, Green Bay Packers and Kansas City Chiefs. He died in a car accident in Louisiana in 2009.
That was the year Stephens was making her way on the professional scene, and she attended his funeral on the eve of the US Open.
Her progress on court was impressive as she picked up secondary ITF titles and made deeper inroads into WTA events and Grand Slams, finishing as the highest-ranked teenager in the top 100 in 2011, and in the top 50 in 2012.
Commercial interest followed and, under the wing of the Lagardere management company, she signed up to endorsement deals with American Express, Johnson & Johnson and Under Armour apparel among others.
Stephens has already almost doubled her career earnings this week by guaranteeing $500,000 (£315,000) for reaching the semi-finals in Australia, and another win over world number one Victoria Azarenka on Thursday will take that over $1m.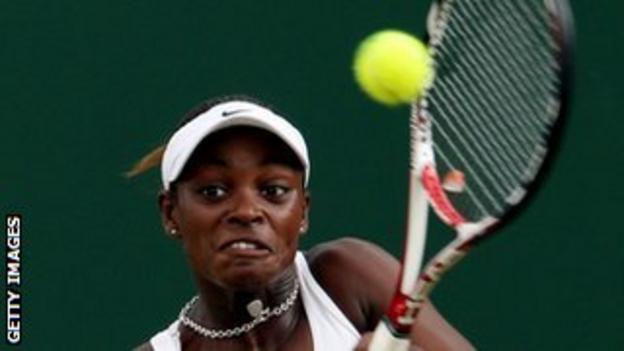 As for the future on court, Stephens has yet to win a senior title anywhere but could end the week as a Grand Slam champion.
That remains an outside bet, but her win over Williams gave the women's game its biggest jolt in years.
"I thought it would happen, but not in this match," said Chris Evert, commentating for ESPN.
"The Williams sisters came up when they were 16, 17 years old. Now it's Stephens. She was bold, fearless. It's a hurtful loss for Serena, but a big day for tennis."
And as the player now in pole position to be poster girl for the next generation, it was appropriate that the number of new Twitter followers, rather than potential back pages, brought the most dazzling grin to Stephens's face.
"I had 17,000," she said. "Now I have 35,000."