Australian Open: Victoria Azarenka may face Li Na and the crowd
By Piers Newbery
BBC Sport at Melbourne Park
Last updated on .From the section Tennis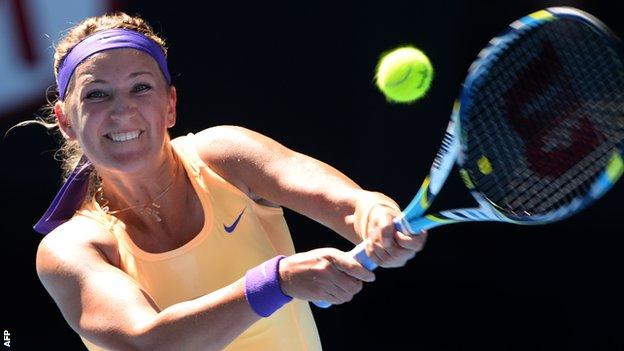 Victoria Azarenka might well have to win over the Melbourne crowd as well as combat the dangerous Li Na if she is to retain her Australian Open title on Saturday.
Both women will be looking to win their second Grand Slam titles when they meet at 08:30 GMT on Rod Laver Arena.
And it is a fair bet that most of the 15,000 spectators will be favouring the Chinese player, who has been such a hit with her engaging on-court interviews since finishing runner-up in 2011.
Azarenka received a slow hand clap when she took a controversial late medical timeout during her semi-final against Sloane Stephens, and ironic cheers on her return, before breaking the American's serve to win the match.
The question of whether it had been gamesmanship saw the world number one face a media grilling afterwards, and the issue has been widely discussed in local sports bulletins since.
The Belarusian changed her stance from the on-court interview, when she had suggested the timeout had been for reasons of anxiety rather than injury.
"It was just a really simple misunderstanding of a question," said the 23-year-old. "I guess it was my bad."
The whole issue disguised the fact that for much of the match, and indeed much of the tournament, Azarenka has been playing good enough tennis to win another major.
If she can get her head right for the final, the defending champion can take confidence from the fact that she has won her last four matches against Li.
"Right now, I just need to calm down with the whole situation, what happened," she said on Thursday. "Make sure that my body's right. Tomorrow is another day. We'll see what happens."
She added: "I'm really hungry to defend my title. That was my first goal. Actually, not to defend, to win the tournament. I put myself in the position to give it the best shot there is, being in the final, so I'm really looking forward to it."
Li, 30, has enjoyed a much more positive run into the final, playing one of her best ever matches as she thrashed second seed Maria Sharapova in the semis.
She is looking for Grand Slam number two after becoming the first Asian player to win a major singles title at the French Open in 2011, just five months after losing to Kim Clijsters in the Melbourne final.
"That was my first time to the Grand Slam final," said Li. "I was a little bit shocked because I didn't know what I should do. No-one told me what I should do on the court.
"But this time I've got more experience, so I think it should be better."
Wildly inconsistent, Li has made it through the draw without dropping a set this time, and credits much of her improvement to working with new coach Carlos Rodriguez in the off-season.
Rodriguez was the man who helped Justine Henin to seven Grand Slam titles.
"I was working very hard in winter training with Carlos," said Li. "Until now it's good; the beginning was a little bit tough. But I think until now, we trust each other a lot. He's doing a good job."
And she joked: "I think next time I should bring Carlos with me. I know so many media are interested about him."