Fed Cup column: Heather Watson targets GB promotion

By Heather Watson
Great Britain Fed Cup team
Last updated on .From the section Tennis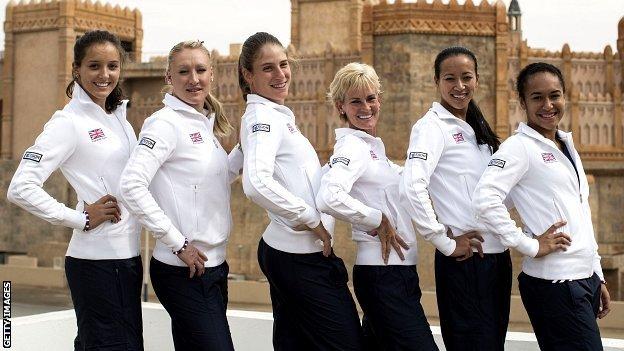 Great Britain's Fed Cup team are in Israel trying to win promotion to World Group II and BBC Sport will catch up with one of the squad every day this week.
It feels great to start another Fed Cup journey with Great Britain and, after getting so close last year, we're desperate to get promotion in 2013.
We're back in Eilat, Israel, for Europe/Africa Group I, where 16 teams will battle it out for two places in April's World Group II play-offs.
There's a great team spirit and we've already had a couple of victories off the court - more of that later - before the serious business starts on Wednesday.
Last year, we but They played really well but we were unlucky to lose to them, and I feel like we've got a good strong team here again and we can do really well together.
Laura Robson and Anne Keothavong were part of the team in 2012, and Elena Baltacha is with us again but recovering from an injury, so we have a new team member as Johanna Konta makes her debut.
And the pressure is on her already as she has to do an initiation performance in front of the rest of the team.
In my first year, me and Jocelyn Rae actually wrote a rap. We thought, 'We're not really speech people,' and it was a lot of fun writing and performing the rap - we even did dance moves with it. Then last year Laura did a rap on court after a match, so I think now people are expecting a rap!
We have no idea what Johanna's going to do - it can be whatever she wants - but I'm really looking forward to it.
The matches start on Wednesday and we're in Pool B with Bosnia-Herzegovina, Hungary and Portugal. If we can win that, we take on another pool winner on Saturday for a play-off place.
We're staying at a hotel nearby with all the other teams, just a five-minute drive from the venue. The club itself is quite small, with four courts and one stadium, and thankfully the weather is a bit different to back home - sunny with a bit of wind, but really nice.
I arrived from Thailand on Sunday morning and the others were already here as they got in the night before.
After a decent rest we played a few team games together - Pictionary was a lot of fun but we were all too good at it! It's always girls against boys, because there are six of each here with the GB team, and the girls won, of course.
Then we played charades the following night - another win for the girls. It's too easy!
I think things might be a bit tougher out on court this week and I'm hoping to play my part. I had two matches in Thailand last week - I won the first one and played really well, but wasn't half as good in the second match - but I'm healthy, feeling good and ready to go.
I've mainly played doubles in the Fed Cup so far but I'm looking forward to playing a few more singles matches from now on.
We'll just have to wait for the team meeting to find out what our captain, Judy Murray, has chosen as the line-up, but we'll be raring to go on Wednesday morning.
Hev x