Fed Cup column: Anne Keothavong upbeat for Bulgaria tie

By Anne Keothavong
Great Britain Fed Cup team
Last updated on .From the section Tennis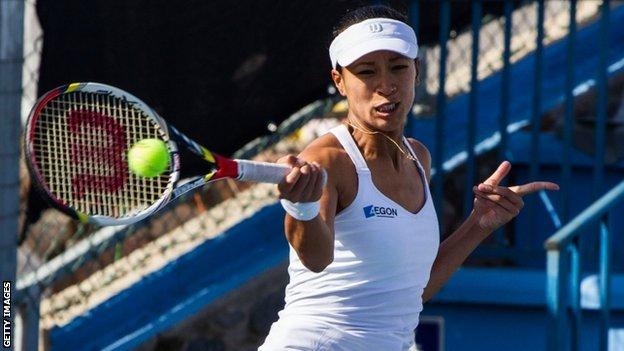 Great Britain's Fed Cup team are in Israel trying to win promotion to World Group II and BBC Sport will catch up with one of the squad every day this week.
Great Britain 2-1 Hungary
After an early-morning shock to the system in Laura's match, we're though to face Bulgaria on Sunday - and I think we go in as strong favourites.
Laura got off to a slow start against Greta Arn in Saturday's first singles rubber against Hungary, dropping the first set to love as she misfired a bit.
We were certainly surprised watching from courtside because it was so quick, and no-one saw that coming. She was fine the previous day and has been hitting the ball well in practice.
Maybe it was just the early start - 9.30am is tough for everyone!
Laura took an injury timeout and came back a different player at the start of the second set. She was bouncing around, more animated and made more balls. I don't think anyone was in any doubt about the result from then on.
Heather had lost her singles match on Friday but came out more animated and pumped against Timea Babos.
I guess it's the first time at the Fed Cup that Heather has gone in as the team's number one, and it's a different kind of pressure. She's probably gone through a few different emotions this week, but she played a much better match and sealed the deal.
It's good we have real strength in depth now, because that hasn't always been the case. Laura and Heather have already made the transition from juniors well and have promising careers ahead of them.
They're both ranked in the top 50 and this is an opportunity for them to shine in a different kind of competition. There is pressure, but it's something they can embrace and show people what they can do.
Obviously we'd all love to be out there playing, but as you get older you see things differently.
My first Fed Cup tie was in 2001 when I was 17. It was in Sweden on clay, which wasn't a surface I'd played on much and it was a bit of a shock, but the captain, Nick Brown, kept playing me. He was keen for me to experience what the Fed Cup was about and I'm grateful for that.
I've always enjoyed the Fed Cup - I think I've only missed one tie in the last 12 years. It's a different kind of atmosphere and pressure, and you can't be as selfish as you are the rest of the year. You're representing your country, you're playing for your team-mates and you want to do well for everyone involved.
I've played one match this week, the very first singles rubber against Bosnia-Hercegovina. I did the job and got the win, but I've had ongoing issues with my feet and unfortunately didn't get the reaction I would have liked. I was struggling a bit walking post-match.
I had a cortisone injection before my match at the Australian Open and unfortunately there isn't much they can do beyond more injections, which isn't very nice as I'm petrified of needles and it's not the best place to inject!
I thought I would be OK playing matches but, judging by how I was after my match here, that isn't the case. I'll have to see the doctors when I get home and go from there.
I'd expect it will be the same line-up for singles against Bulgaria on Sunday, and we've all got a lot of confidence that Laura and Heather can finish the job.
We'll go through the video analysis and footage of the Bulgarians' matches in Australia and this week; any advantage you can get like that is useful. Pironkova is very experienced and a strong number one but their next player is 250 in the world - but I don't want to jinx it!
It would be brilliant if we could get through and hopefully be drawn at home for the next round in April. The last time Britain played at home in the Fed Cup was 1993, so it's something I've never experienced.
We made it through last year, which was great, but were drawn away to Sweden. To get a home tie would be great for women's tennis as a platform to get more girls and women involved in the sport.