GB's Andy Lapthorne ready for Quad tennis expansion

By Jonathan Overend
BBC Radio 5 live
Last updated on .From the section Tennis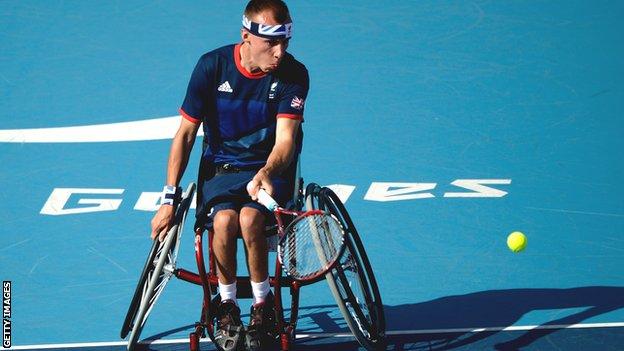 Shrunk to miniature size by the giant backdrop of Melbourne's Central Business District and silenced by the deafening roar of the Red Arrows-style Australia Day flypast, Andy Lapthorne was doing his best to make himself seen and heard.
As a backhand winner secured a double break in the opening set of his first Grand Slam singles final - the Quad championship match at the Australian Open - he punched through the humid air and screamed so loudly the pilots above probably glanced down to see what the commotion was.
He may have lost in three sets to the experienced David Wagner of the United States but the 22-year-old from Middlesex showed enough talent, passion and determination to suggest he'll be on the stage many times in the future.
Lapthorne, who has cerebral palsy, spearheads a new wave of young athletes who have turned to wheelchair tennis. It's a rapidly growing sport both in the UK and around the world with 170 sanctioned tournaments in 40 countries.
The International Tennis Federation has recently worked in Cambodia, Sri Lanka and Vietnam, its Wheelchair Development Fund has projects in 35 countries, and with the help of leading doubles player Aisam-Ul-Haq Qureshi, who has a particular interest in growing the game in nations with a history of conflict, this truly international sport continues to spread its wings.
In the UK, the aim is to build on the Paralympic event at Eton Manor, a renovated club on the northern edge of the Olympic Park, where thousands of spectators were introduced to wheelchair tennis for the first time.
Winning silver in the quad doubles, partnering Lapthorne, proved to be the last major hurrah for Peter Norfolk, the multiple Grand Slam champion, who announced his retirement from full-time tennis last week.
Norfolk, flag bearer for Paralympics GB at the opening ceremony with gold medals from Athens and Beijing and numerous Grand Slam and Super Series titles, has been one of the giants of disability sport for the past decade.
He may still compete in some events, including the British Open in Nottingham in July, but plans to spend more time with his young family and pursue business interests.
Also taking time out is the extraordinary Esther Vergeer, the most internationally known wheelchair player. Does any athlete deserve a break more?
Since losing to Daniela Di Toro in Sydney in January 2003, Vergeer has not lost a single match.
Let's break down that decade of dominance; 470 consecutive victories (including 95 6-0 6-0 wins), 120 titles, only 18 sets dropped in 10 years. She did face one match point at the Beijing Olympics but that was as close to defeat as she's come. Surely nobody in sport lays claim to a more impressive unbeaten record than the 31-year-old Dutch star.
As she returns from South Africa and a development trip with the Johann Cruyff Foundation (big supporters of wheelchair tennis) to consider her future, plenty of British players are preparing for important tournaments having hit personal milestones.
Gordon Reid and Lucy Shuker are at career-highs in the men's and women's divisions, at numbers seven and six respectively, while in 15-year-old Alfie Hewett and 17-year-old Lauren Jones, Britain boasts the top two juniors in the world.
With Lapthorne doing his thing in the quads, there has never been a better time to get into wheelchair tennis. So if you're in the north of England, check out the upcoming tournaments in Preston (19 February) or Sunderland (25 February). Both are open to the public.