Rafael Nadal calls for fewer hard court tournaments
Last updated on .From the section Tennis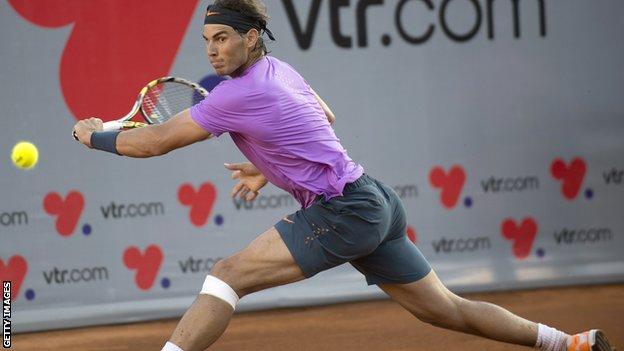 Former world number one Rafael Nadal says too many tournaments on hard courts will limit players' careers.
"Hard courts are aggressive on the knees, back and ankles," said the seven-time French Open champion.
The Spaniard also criticised a move to enforce the 20-second rule between points at grand slams.
Nadal returned to competitive action at the Chile Open, where he lost in the final, after seven months out of the sport.
He had suffered from tendonitis in his knee since his dramatic second round five-set defeat to Czech Lukas Rosol at Wimbledon in June.
Nadal said the number of hard court tournaments on the ATP tour should be reduced.
"That is a theme among the players and doctors," he said.
"To make a change like that (reduce the amount of hard court events) it won't be possible in this generation but I think that the ATP has to work to think of how to lengthen tennis players' careers.
"Can you imagine football players playing on cement?"
Nadal also says that ATP chiefs need to reconsider their decision to try to speed up the game by enforcing the 20-seconds between points rule at grand slams.
"Rule changes should be made to improve the sport," he said.
"I don't think the players in the dressing room are happy with the new rule and we'd like it to be modified and that the referee interpret when you can take longer rather than it be something mathematical.
"People want to see long rallies and hard-fought points. Twenty five seconds is not enough."