Improving GB have a good chance of winning World Group play-off

By Jonathan Overend
BBC Radio 5 live
Last updated on .From the section Tennis19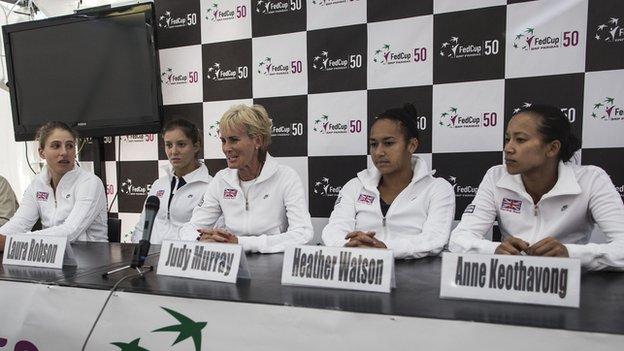 Oh yes. Parque Roca, on the outskirts of Buenos Aires, how could we forget you? The rowdy crowd, the thumping steaks, Jamie Murray in a grump with his brother and a weekend of broadcasting via Skype thanks to a breakdown in the international language of telecoms.
That memorable Davis Cup trip was in 2008. With Andy Murray deciding to concentrate on ATP events, a matter of huge debate at the time, Britain slumped to a 4-1 defeat and an alarming subsequent slide down the divisions, only recently reversed.
Now the Fed Cup draw has thrown the nations together again but, when we return in April for the World Group II Play-Off, there will be two main differences: we'll stay out of the crazy taxis which hurl round the street corners with latin flair and abandon, and we'll actually have a decent chance of winning.
The British team has excelled under Judy Murray's captaincy and an unbeaten week in Eliat, Israel, with victories over Bosnia, Portugal, Hungary and Bulgaria, has provided another promotion chance.
Last year we went to the cultural opposite of Buenos Aires - the jumping Boras, Sweden - and Britain came up just short. This time, with Heather Watson and Laura Robson having gained experience and risen into the world's top 50, conquering the Argentina clay is a distinct possibility.
After the retirement of Gisela Dulko last year, Argentina have Paula Ormaechea (ranking 195), Maria Irigoyen (215) and Florencia Molinero (214). Comfortable on clay, backed by home support, but not in Britain's class.
With Johanna Konta and Anne Keothavong supporting Watson and Robson, Britain look, sound and play like a proper team. The injured Elena Baltacha was there on the sidelines in Israel - more sound management from Mrs Murray - and the back-up team will be bolstered come April with the addition of Jeremy Bates to the LTA coaching set up and promotion for Iain Bates who has just become head of women's tennis.
Plenty of progress has been made on the women's side, and a positive result in Argentina would prove it, but work continues to increase the number of people playing the game because, beneath the immediate Fed Cup squad, talent in several age groups remains thin on the ground.
That's why a scheme launched this week by someone with British tennis running through his veins is so welcome.
While not claiming an instant solution to the age old problem of developing the sport in the UK, Jeremy Dier's idea "Draw for All" at least promises to give it a go.
Dier, a former junior champion with bags of promotion and marketing experience both within tennis and out of it, has persuaded clubs from Brighton to Fife, Widnes to Wrexham, to stage tournaments based on the system used in most of France.
The aim is not to focus on the brilliant few but to encourage general participation with "progressive" draws for anyone over 15 with an LTA rating. The lowest rated will meet in the first few rounds with the better players being fed in as the draw develops.
Dier has long been frustrated by the idea of a player turning up for a tournament, losing his or her first match 6-0 6-0 in half an hour, and being out of tennis for life. Likewise, he feels such a result does nothing for the winner but boost the ego.
This scheme has early losers playing again to ensure at least two matches for each entrant. The losers end up keeping the balls. "The worst that can happen is you pay £15, play two matches and get a can of balls," says Dier.
I wish him the best of luck with it. Retaining people in tennis - whatever level, whatever age - is the key to the sport's future rather than any attempts at a short-term fix.
If my mate, at the age of 40, enjoys these tournaments because he knows he's getting evenly-matched contests, he may introduce his kids to life at the tennis club.
And there, who knows, we may find future Fed Cup stars dreaming of a weekend on the clay in Buenos Aires.