Roger Federer plans two-month break after Indian Wells
Last updated on .From the section Tennis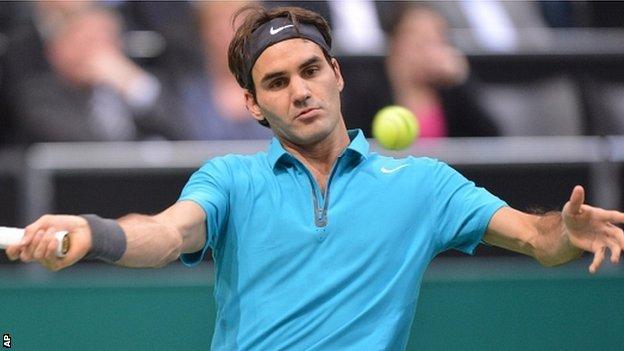 Roger Federer will not play for two months after the Indian Wells event in March to spend time with his family and prepare for the clay-court season.
The Swiss, 31, returns to action in Dubai this week and will then head to Indian Wells, which ends on 17 March.
Federer, a father of two, then plans a holiday with his family before practising on clay in Switzerland and returning to action in Madrid in May.
"I can't play a year like I did last year every single season," he said.
"That isn't the point I'm at in my career. I'm not 22 where I have to play 25-30 tournaments a year. Plus, I believe I'll be really ready for the tournaments I've entered."
Indian Wells is followed by another high-profile hard-court tournament in Miami, but Federer is allowed to skip the usually mandatory Masters 1000 events as he meets the ATP's three criteria of being aged 31, having played more than 600 matches and competed for over 12 years.
The 17-time Grand Slam champion's leading rivals, Novak Djokovic, Andy Murray and Rafael Nadal, are all scheduled to compete in the American events, although Nadal's presence is far from certain as he carefully manages his return from a knee injury.
"I'm trying to be smart with my scheduling because I'm in a totally different situation than they are - they are right in their prime," said Federer, the world number two.
"For me, it's very challenging and why I need to make the right decisions with personal life and my family. None of the guys have that, so I have many more things to worry about than they do."
Federer married long-term partner Mirka in 2009 and later that year the couple became parents to twin daughters Myla Rose and Charlene Riva.
In 2012, he played 83 matches across 17 ATP and Grand Slam tournaments, as well as two Davis Cup ties.
"The last few years have been really tricky in terms of my practice schedule, especially through an Olympic year (in 2012)," he said. "This year is totally different. Family is very important, so I also want to spend quality time with them."
Asked whether he felt he could one day return to the top of the rankings, Federer said it was "absolutely realistic", and added: "Eventually, it will be clear that it is time to stop but the time is definitely not now.
"But then again, things change very quickly. You have to be ready for it and open to it. I'm not naive that I can play for 15 more years but I would like to give myself a chance to play for many more years to come. I'm happy with where my body is at.''
Djokovic and Federer are the top seeds at this week's Dubai Championships in their first tournament since the Australian Open, and Serbia's world number one said he feels more relaxed than at the same stage last year.
"Mentally, I do feel a little bit more relieved than I was at the start of 2012,'' said Djokovic.
"Following up after 2011 was an extreme challenge for me, mentally mostly, because I still played really well, but I found myself for the first time in a position to be the number one in the world and to defend Grand Slam titles - three in a whole year.
"Right now, I've recuperated, I've learned my lesson, I've understood the experience that I went through and I'm ready for new challenges."