Novak Djokovic beats Tomas Berdych to win Dubai title
Last updated on .From the section Tennis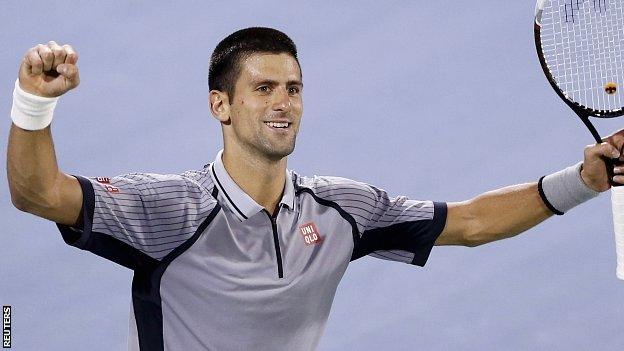 Novak Djokovic brushed off Tomas Berdych to claim a fourth Dubai Championships title in five years.
The Serbian world number one extended his winning streak to 18 matches with a 7-5 6-3 victory against Czech Berdych, the conqueror of Roger Federer.
The 25-year-old Djokovic came from a break down in the first set and made the crucial break to go up 5-3 in the second before closing out the match.
Djokovic is unbeaten since October and did not drop a set in Dubai.
"I had a good feeling and good vibe about the tournament," he said.
"There are always three or four top 10 players participating here. I enjoy competing for this trophy."
Berdych, who shocked five-time champion Federer in three sets, told the post-match presentation: "I didn't have enough. Novak was too good and deserved to win.
"I'll try to work hard to improve. I'd like to come back here for many years and fight for victory."
Six-time Grand Slam champion Djokovic has now won all 13 matches against top-10 opponents since Andy Murray defeated him in September's US Open final.
In that time, he has added the ATP World Tour Finals crown and a third straight Australian Open title.