Nadal sets low expectations for hard return

By Jonathan Overend
BBC Radio 5 live
Last updated on .From the section Tennis27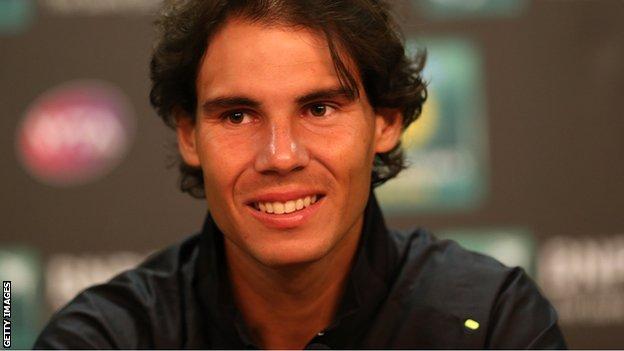 Rafael Nadal looked a little nervous to me.
Friendly, courteous, diplomatic - all the usual Nadal qualities - but tense and twitchy as he contemplated a first hard court tournament for almost a year.
Giving his first news conference here at the BNP Paribas Open in Indian Wells, Nadal pleaded with the rows of reporters: "Forget about the knees, please!"
It was a futile request. How could we forget about an injury which kept him out of tennis for seven months? A problem which, by his own admission, continues to give him "good days and bad days"?
He dealt with the inevitable questions expertly as ever but caution was evident. "I am here to try my best," he said, hardly giving confidence to those who feel he can win a third title here in the California desert.
It's totally understandable.
The last time he played on the concrete was Miami, March 2012, and his last hard court event title was October 2010 in Tokyo. His last nine tournament victories, over two and a half years, have all been on clay.
This is the big test of the Spaniard's long-awaited, much-anticipated comeback and he is quite right to set expectations low.
After missing the Olympics, the US Open and the Australian Open, plus all events in between, Nadal eased himself back in February with three weeks on clay; winning two titles and losing just the once, unexpectedly to Horatio Zeballos in the final in Vina Del Mar, Chile.
The sequence ended with a 6-0 6-2 thrashing of David Ferrer - the world number four - in Acapulco, Mexico, which Nadal described as a "big surprise" and "very emotional" but also one of the best wins of his life on clay. Quite a comment given the number he has to choose from.
And as he headed out onto the balcony for a series of interviews, on an unusually cool Coachella Valley afternoon, I was able to get him to expand on his "good day, bad day" remark.
His reply was insightful: "When I have bad days I feel like I cannot move freely and that's impossible to compete against the best players. I have to accept when that happens my chance is very little."
Based on results in South/Central America it's safe to assume that Nadal is back yet, when you hear him speak this cautiously, you fear for his future.
The hard courts are unforgiving and the leg joints take the brunt of the resistance. He cannot slide as he does so brilliantly on the clay so will surely have to bring a more compact game on those more painful match days.
If he has a bad experience at a hard court tournament, will he consider putting even more focus - possibly all of it - onto clay events? A huge shame if it happened, although it wouldn't surprise many observers.
For now, let's wish him well and be grateful that the "big four" are back together for the first time since Wimbledon.
Novak Djokovic arrives as Australian Open and Dubai champion, Roger Federer returns to defend his title and Andy Murray, the third seed, is determined to erase the memories of two first match defeats from his last two visits. Federer could play Nadal in the quarter-finals, a stage of a tournament at which they have never played.
In the absence of world number one Serena Williams, the women's top seeds are Victoria Azarenka, Maria Sharapova, Agnieszka Radwanska and Angelique Kerber. Azarenka, the defending champion, is a clear favourite once more.
While the Americans have been celebrating early victories for youngsters Taylor Townsend, Christina McHale and Madison Keys - all decent prospects - the British players Heather Watson and Laura Robson are already out.
Although there is no need for panic, both appear to be struggling at the moment with Robson experiencing a third successive first-round loss.
This is a tough existence at the top of the world game and dealing with setbacks is a key part of a young player's development. Neither is 100 in the world any more.
At 39 and 43 respectively in the rankings, both are chasing top-32 seedings for Wimbledon, maybe even the French, and the victories will be hard to come by, the rungs on the ladder harder to climb.
That's a natural consequence of being at top-flight level. Patience, as we've said in British tennis many times before. Patience.