Roger Draper to step down from LTA chief executive role
Last updated on .From the section Tennis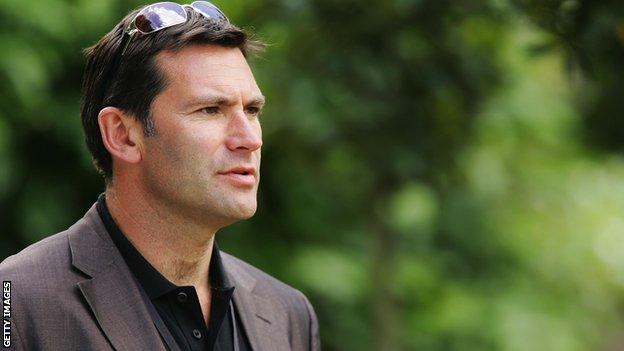 Roger Draper is to step down from his post as chief executive of the Lawn Tennis Association (LTA) in September.
In his seven years in the role, Draper oversaw a period where Andy Murray, Laura Robson and Heather Watson all enjoyed success.
But he did receive criticism for his performance from the All-Party Tennis Group in light of his £640,000 salary
"Tennis is entering an exciting phase and now is the time to hand over the baton to a new leader," Draper said.
"Someone who can build on what has been achieved in recent years, and take British tennis to new levels."
Draper took charge of the LTA in 2006 after working as chief executive at Sport England.
His lack of success at elite level for much of his time in charge brought a stinging rebuke from Baroness Billingham of the All-Party Parliamentary Tennis Group late last year.
This came after the LTA revealed in December 2012 that Draper received a basic wage of £394,000, a bonus of £201,000 and a pension contribution of £45,000.
She said: "You don't give bonuses for failure, surely, and a priority has to be placed on grassroots sport.
"The LTA is one of the wealthiest sporting organisations in the country and it's my honest and genuine opinion that they are useless."
Draper can point to an increase of 18% in the number of adults playing tennis each week in England during his time in charge.
And to the fact Murray won the US Open and Olympic gold in 2012, plus a silver medal in the mixed doubles after teaming up with Laura Robson.
Robson is currently placed at 43rd in the women's rankings with Watson four places ahead of her in 39th.
Draper also introduced a Blueprint for British tennis that led to the creation of new talent identification and performance programmes.
And he implemented plans that saw commercial revenue rise from £1.75m in 2006 to £9m last year.
Draper added: "It has been a huge honour to serve the sport that I love so much and to play my part in leading British tennis.
"I have been very lucky to work with fantastic people both at the LTA and across the wider tennis community, and I would like to thank them all for their passion, commitment and hard work."