Andy Murray backs Heather Watson to recover from setbacks
Last updated on .From the section Tennis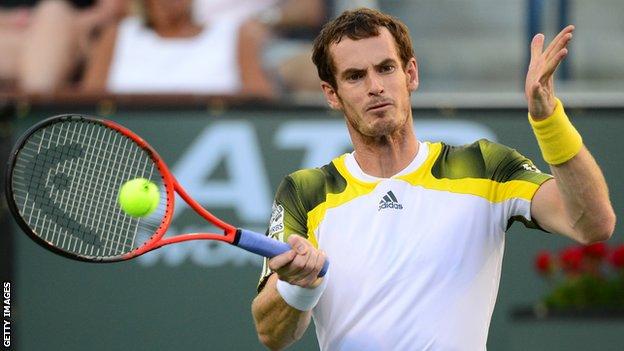 Andy Murray has backed Heather Watson to overcome her recent setbacks while warning of the dangers of burnout.
Watson, who faces losing the British number one spot to Laura Robson, will continue with her schedule despite saying on Tuesday she planned a break.
She considered taking time off after exiting the Miami Masters, where Murray faces Bernard Tomic on Saturday.
"Heather and Laura will be fine. They have good people around them," Murray told BBC Sport.
Watson announced on Tuesday that she was planning a break after suffering a first-round defeat for the second tournament in a row, saying she felt "burnt out".
But she told BBC Radio 5 live on Wednesday that she meant she wanted to return home to Guernsey for a few days.
Robson will replace her as British number one by beating Alize Cornet of France in the second round in Miami on Friday.
Murray, 25, believes that burnout is a greater danger on the women's Tour, where players often start at a younger age, than it is for the men.
But he recalled his own experiences of trying to juggle a demanding schedule as an 18-year-old after playing at his first Wimbledon in 2005.
The British men's number one said: "After I played Wimbledon for the first time, I played 10 weeks of events in a row, right through to the US Open. I wouldn't dream of doing that now. My body would be too sore and I would get so tired.
"But when you first get on to the Tour, you want to play every single week. Everything's new to you, and you want to be involved in any event you can because it's what you've always dreamed of.
"Once you get there, it's important to reassess your goals, and understand that resting is very important. The physical side is very important, so that you can have a long career.
"I think it has happened more on the women's Tour than the men's Tour that a lot of players have burned out in their mid-20s and have wanted to go off and do other things.
"A lot of the women started on the Tour at 15 or 16, which doesn't happen so often with the men.
"You have to make sure you schedule your events properly, get enough training in and everything will be fine."
Murray, who has a house in Miami, is hoping that home comforts will help him through his opening match, a second-round meeting with Australian Tomic, who won his first ATP title in Sydney in January.
"I spend three or four months a year here, and it's nice to go back after a match and not have to stay in a hotel," he said.
Tomic beat French qualifier Marc Gicquel 7-5 7-6 (7-3) in round one to set up the meeting with Murray.
"Bernard's one of the top guys coming through," Murray said. "He started off the year very well, winning his first title and reaching the fourth round of the Australian Open.
"He's not unbelievably quick, but he has very good anticipation, so he also looks as if he has a lot of time - that's why he will be difficult to play against."
Murray could rise to second in the world rankings for the first time since 2009 if he were to win the tournament in Miami.
But he said: "Getting to number two would be nice but it's not the ultimate goal for me. I try to concentrate on winning events if possible and the rankings will take care of themselves."