Andy Murray explains why Miami base helps his tennis

By David McDaid
BBC Scotland in Florida
Last updated on .From the section Tennis26
When he's not travelling the world pitting himself against the best players in the top tournaments, Andy Murray likes to indulge in some dolphin spotting.
He doesn't have to go very far: just a few steps to the balcony of his penthouse apartment in a block which also includes neighbours like fellow tennis player Juan Martin Del Potro and Formula 1 driver Pablo Montoya.
Situated on the water's edge in the Brickell area, with views across Miami and out to the Atlantic, a good pair of binoculars is all Murray needs to catch a glimpse of the bottlenose dolphins or manatees, which swim into the Biscayne Bay.
It's a far cry from Dunblane, but more than five years have passed since the Scot established a home from home in South Florida.
"I spend more time here than I did a few years ago, probably about three-and-a-half months of the year," Murray told BBC Scotland.
"Miami's a very laid-back city. You can do whatever you want here.
"They have nice beaches, on South Beach there are lots of shops, a good party life, and there are very good restaurants all over the city."
But it wasn't the shopping, or the nightlife or even the wildlife which attracted him to the 'Magic City'.
"There are good players to practise and train with, and they have great facilities here," Murray continues.
"It's a great place to train and prepare because the conditions are some of the toughest on the Tour as it's extremely hot and humid.
"So when you go and play in Europe afterwards it doesn't feel as bad."
Those training facilities are at Crandon Park where the Miami Masters is being staged, just 15 minutes over a bridge from Casa Murray.
Right now that's a busy place, because the guest list includes his brother Jamie and dad Willie, not to mention Kim his girlfriend and for the first time his two dogs; Rusty and Maggie May.
Mum Judy has already vacated one guest room as she's off up the Florida coast to continue the ground work for the important GB Fed Cup tie in Argentina next month.
That means she may miss seeing her number two son becoming world number two, which would happen if he claims the trophy here for a second time.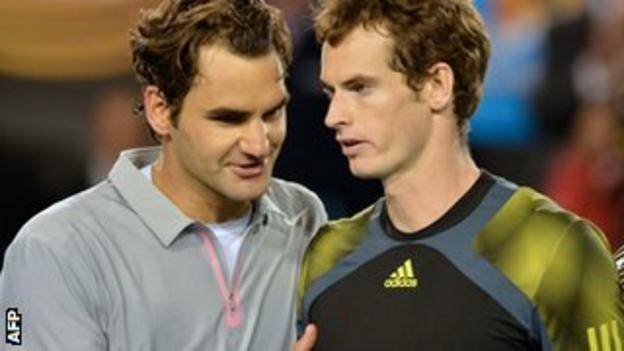 But the possibility of overtaking Roger Federer seems to be very much at the back of Murray's mind.
"It's not something I'm thinking about going into my first match against Bernard Tomic," he explained.
"Getting to number two is not a goal of mine. I'd rather focus on winning events than counting ranking points.
"The one thing it does help with is with your seeding for the bigger events, and that's how it would be of benefit to me."
With no Federer or Rafael Nadal at this event, the route to the title and number two has been made that bit less stressful.
And former Wimbledon champion Pat Cash believes Murray can enter the European clay court season as the planet's second best player, behind Novak Djokovic.
"He's got a great chance to get to number two," Cash said.
"Djokovic is clearly the player of the year so far, and it's never easy to win these tournaments - with our without a couple of the best players.
"Andy will want to improve on his form from Indian Wells where he was beaten by Del Potro. But he has the ability to do that.
"These are the biggest events outside the Grand Slams. But he's a big player, he'll like this occasion and I think he's got a great chance to win it."