World number two Andy Murray determined to improve on clay
Last updated on .From the section Tennis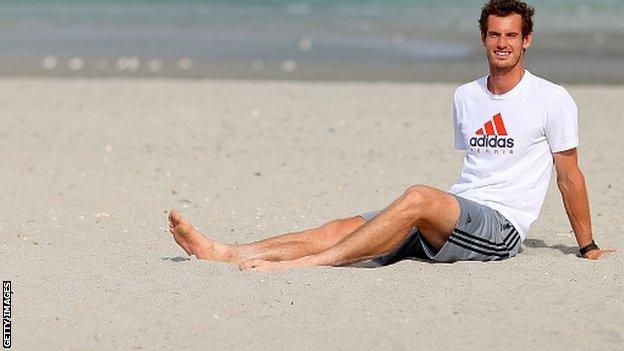 Britain's Andy Murray says there is plenty of room for improvement as he heads into the clay-court season ranked number two in the world.
Murray remains some distance behind world number one Novak Djokovic.
"It's good to get there but I obviously want to try and keep improving," he said. "If I get the chance to go higher that's what I want to try and do."
There had been lots of talk around Murray's potential ranking improvement during the Sony Open in Miami, and the 25-year-old admitted he was relieved to get the job done ahead of the busiest stretch of the season.
"It was nice to get there so I can go into the clay-court season just focused on improving and going forward and not worrying about rankings or seedings or anything like that," Murray told BBC Radio 5 live.
Murray described clay as "my worst surface" but he is a former French Open, Monte Carlo and Rome semi-finalist, and has the opportunity to close the rankings gap on Djokovic this year after failing to make it past the quarter-finals on clay in 2012.
However, the impressive return to action of seven-time French Open champion Rafael Nadal after nearly eight months out with a knee injury leaves little doubt over who is the favourite for the major clay titles.
"I can play some decent tennis on it but I need to work extremely hard on the clay because I haven't played on it in 10-and-a-half months now, so it always takes me a bit of time to get used to," said Murray.
"It's the most challenging surface for me and with Rafa coming back it's going to be very tough, but I'll give it my best shot."
A potential benefit of being ranked number two is, given an ideal draw, he could be placed in the opposite half to Djokovic, Federer and Nadal at the French Open in May.
Murray has boosted his ranking with a successful run on American hard courts in recent weeks, reaching the last eight at Indian Wells before winning his first Masters 1000 title since 2011 in Miami.
"I haven't played my best tennis in the Masters Series the last couple of years and it's nice to win one," he said.
"These are very tough tournaments to win; it's six matches in the space of 10 days or so against guys like David. They are challenging to win, so I'm glad I managed to get this one and getting to number two is the icing on the cake."
Murray will now take a break for a few days before practising on clay in Florida, and then heading to Europe for the Monte Carlo Masters, which begins on 14 April.
"I didn't want to overplay too much at the beginning of the year - a lot of guys this week have been complaining they're tired and we saw quite a few guys pulling out," he said.
"I think being fresh helped me and hopefully I can keep managing my schedule well throughout the year."