Expansion and innovation part of Wimbledon Masterplan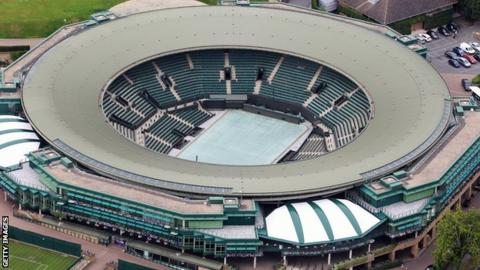 As usual Wimbledon continues to improve, expand and innovate and the decision to remodel Number One Court, while expected, is an exciting development.
It certainly stretches Wimbledon's advantage as a Grand Slam venue ahead of Roland Garros and Flushing Meadows, neither of which has a single covered court.
The Australian Open continues to expand impressively - a third covered court is expected by 2015 - but the French Open keeps delaying its politically-complex redevelopment and the US Open, let's be honest, is an omnishambles.
We'll have to wait for the new look Number One Court - 2019 is the anticipated opening as part of a restructuring of the grounds - but that's because Wimbledon do things the right way.
They examine every possibility and pitfall before making decisions, budgets are calculated meticulously and designs provide solutions to every problem.
The Wimbledon Masterplan, as they have called it, will include installing the same air-conditioning system into Number One as in Centre Court, to protect the grass, putting bigger seats into the stadium and probably adding a couple of rows at the back to keep the capacity about the same.
There are many other ideas; more space around the outside courts, some of which will move position, a new welcome experience for spectators coming through the gates and the knocking down of the old Aorangi Pavilion, by the practice courts.
Most of all, I enjoyed hearing Philip Brook, the All England Club Chairman, address an issue which has been a campaign of mine in recent years. He wants to look at ways to open up more of Court 2 and Court 3 to ground pass holders and this is brilliant news.
Often the people who buy the tickets for these courts - many available in the turnstiles at the start of every day - are more interested in cruising the grounds than sitting on these minor show courts. The ticket just gives them a guarantee of a seat when they want it.
And because the ground pass section on Court 3 has been so small, when it hammers down with rain, spectators are reluctant to give up seats because they'll never get them back them.
It makes sense to create fantastic atmospheres on these super little stadiums but you need a full house and that's only possible with the ground pass holders' help.
As expected the players will be significantly rewarded this year with a massive 40% increase in the prize pool, up by £6.5m to £22.6m.
All four Grand Slams have been under pressure for the past couple of years with the players calling for a greater slice of the total tournament revenue. They are certainly getting their way.
And while the champions will get a cool £1.6m, this debate has never been about making Roger Federer or Andy Murray richer. It's about rewarding the players who work all year to get their ranking high enough to get into tournaments such as Wimbledon.
Some, ranked between 100-150 in the world, claim it's hard to break even on the tour such are the expenses of professional tennis. So now losers in the first three rounds will see their prize money go up by more than 60%. Again, surely no further complaints.
But while these rises will be welcomed by the top 100 players, qualifiers and British wild cards (what a year to get a wild card, £23.5k even if they lose), what about the hundreds of professional tennis players around the world who for now can only dream of one day making it to SW19?
As rewards soar at the top, prize money stays the same at challenger and futures level and tournaments are getting cut back.
The job for the young player ranked 200 and below has just got that much harder. As costs increase, prize money stays the same at that level. And - crucially - the rises at the top mean more 'veterans' are likely to stick around for longer to milk the rewards. How are these young players meant to crack it?
Tennis, as always, needs to take a wider look.