Rafael Nadal at French Open: King of clay bids for eighth title
By Piers Newbery
BBC Sport at Roland Garros
Last updated on .From the section Tennis72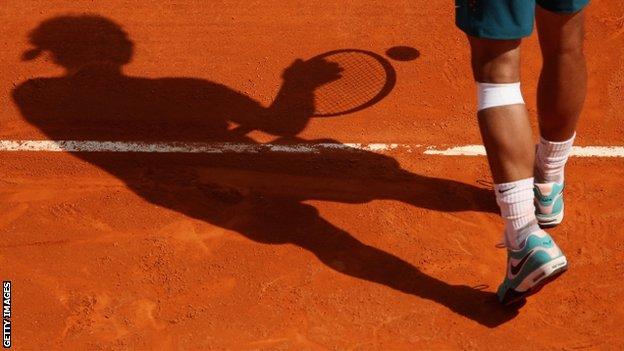 Another whip-crack forehand leaps off the clay and it is clear the shot that has dominated the French Open for almost a decade is in good working order - Rafael Nadal is ready to try for title number eight.
Should he achieve that, the 26-year-old Spaniard would become the first man since tennis became a truly international sport to win one of the four major tournaments eight times, surpassing seven-time Wimbledon winners Pete Sampras and Roger Federer.
Nadal won a record seventh title last year, taking his record at Roland Garros to 52 wins and one defeat, dropping just 14 sets along the way.
Bjorn Borg says he is "the greatest clay-court player to ever play", while Federer has described Nadal as an "artist" on the clay, adding: "You know what you're going to get, so you have to play a really good match against him to have a chance. And then you still might lose."
Carlos Moya, a former world number one and French Open champion, describes his long-time friend as "a warrior".
"His never-say-die attitude has already allowed him to win seven times at Roland Garros," said Moya, who will play in a new ATP Champions Tour event in Edinburgh on 20-23 June.
"This year is going to be as difficult as it's ever been, but he is ready for it."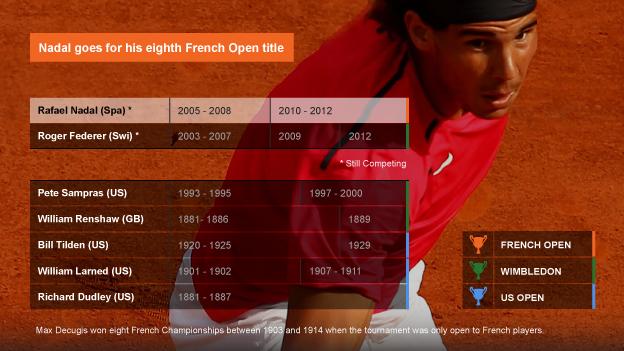 FITNESS
Nadal's knee has been the focus of attention in the tennis world for years now, and his lasted almost eight months as he recovered from a partially torn patella tendon.
He chose not to undergo surgery and instead gave the tendon time to repair, while gradually building up strength through physiotherapy, hydrotherapy and laser treatment.
in February and the early signs were not wholly encouraging as he looked a shadow of his former self much of the time and admitted that the knee was still painful.
It was in the that the old Nadal returned as he thrashed then world number four David Ferrer 6-0 6-2, and by the time he got to Monte Carlo in April - his fifth tournament - he tried to draw a line under the matter.
"There has been a lot of talk about the knee for the last year and I think it's not good to talk about that any more," said Nadal who begins the defence of his French Open crown against Germany's Daniel Brands on Monday.
While he has been racking up the wins, talk of the knee has indeed subsided, but he admits to still having good and bad days with an injury that will have to be managed for the rest of his career.
Lee Herrington, physiotherapist with the English Institute of Sport and senior lecturer in sports rehabilitation at the University of Salford, said: "The nature of that injury means an athlete is likely to get some pain when they load the knee at competition levels.
"The tendon is load-intolerant now, so in a Slam-type tournament over two weeks solid there will be a consequence of that."
FORM
In a word, spectacular. A record of six titles and two runner-up finishes since returning in February suggests Nadal is more than coping with his troublesome knee.
In fact, it has been the Spaniard's best ever start to a year with 36 wins and just two losses.
After one of those defeats, Nadal said: "I think I'm in the right way. Five finals in a row. If you told me that four months ago, I would be crying with emotion."
STRENGTHS
As Federer said last week: "I think we get no surprises from Rafa on clay."
Ferrer won just five games in and said afterwards: "Winning a match against Rafa at Roland Garros is almost impossible."
Moya describes Nadal's strengths on clay as "a combination of fitness, mentality, being a lefty and the top spin", adding: "Roland Garros is even more testing as it is played at sea level and best-of-five sets."
And, if anything, the injury has made Nadal even more dangerous. "He is trying to be more aggressive to avoid spending extra hours on court since the recovery for the next match is not as speedy as it was a few years ago," says Moya.
Nadal's brutal demolition of Federer in the earlier this month was evidence of that, as the Spaniard powered to victory in just 68 minutes.
"It's true that in Rome and Madrid, I think I played very aggressive," said Nadal. "I played inside the court and had control of the point.
"You can do that when you have positive feelings and when you are playing well. I know that's the way that I need to play and I'm going to keep trying to play that way."
RIVALS
Every opponent knows what is coming but that rarely helps. Ferrer has twice extended Nadal to three sets during this clay-court season, as have Ernests Gulbis and Grigor Dimitrov, but only one man has actually beaten him.
World number one Djokovic has made the French Open his major target for 2013 as he looks to complete the Grand Slam set, and he has already wrestled one clay-court title from Nadal's grasp with a stunning display in Monte Carlo in April.
"Winning against Nadal on clay is not something that happens every day - it's a big challenge," said the Serb. "I managed to play one of the best matches on clay ever in my career and that's an important fact prior to Roland Garros."
Speaking after that win, former British number one Greg Rusedski told BBC Sport: "When Rafa used to play Federer he would always just go to the backhand until he broke it down; it was a very simple strategy.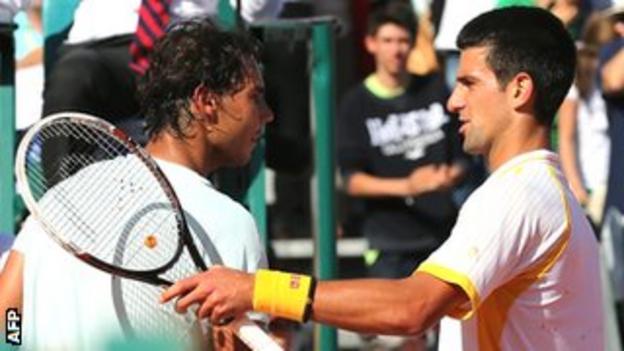 "With Djokovic, there is no real one side to go to. The forehand can be off a little bit but it is not really a weakness; it is still a strength.
"Movement-wise and physically, Rafa has actually met his match, where a guy can stay with him toe-to-toe and take it on early. That's never happened to him in his career and that's why there's a little bit of trepidation when he plays Djokovic."
Moya agrees it is the strength of Djokovic's backhand into the fearsome Nadal forehand that changes the dynamics for the Spaniard.
"Djokovic is the only player able to play as many backhands cross-court against Rafa's forehand as he wants on clay," says Moya.
"Rafa has to try to serve and start the point on Novak's forehand, which is also very good. I think if Rafa is healthy, Djokovic is the only threat right now."
The only person you will not find willing to talk up Nadal's chances of winning an eighth title on 9 June is the man himself.
But when pushed, Nadal, who turns 27 on 3 June, reveals that he is well aware of his place in the history of the sport.
"To talk about numbers, talk about history, you have to analyse when somebody finishes his career, not in the middle," he explains.
"For sure, I would like to be remembered like a good guy and a good player. Last year was important for me to win the seventh, one more than probably the best in history on this surface (Bjorn Borg). That means a lot to me.
"But in the end, Roland Garros has a special feeling and I feel very emotional every time I am back here. I'm going to try my best to keep having good results here in this tournament for the next couple of years."