Rafael Nadal criticises ruling to destroy doping evidence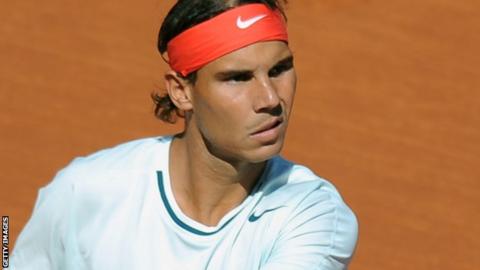 Spain's Rafael Nadal has criticised the decision to destroy evidence in his country's doping scandal.
Earlier this week Dr Eufemiano Fuentes was convicted for his role in supplying blood transfusions to cyclists.
But a Spanish court ordered 211 blood bags to be destroyed without analysis.
"The ruling wasn't positive for anyone," said Nadal. "The only ones that benefited were those who cheated. The ones that are hurt are Spanish athletes and sports in general."
Fuentes, who received a one-year suspended sentence for endangering public health, has worked with tennis players as well as runners, footballers and boxers, although he has not said whether he helped them dope.
"The image this transmits to the world isn't the one we were hoping for," Nadal, the former world number one, who has won 11 grand slams, added.
"I think it is a mistake that the names (of Fuentes' clients) are not known, but that is what happened. We will keep working so that sports stays clean and this doesn't happen again in the future."
Nadal's rival Andy Murray had already questioned the outcome of the case, tweeting "Why would court order blood bags to be destroyed? #coverup."
Tennis is to implement an Athlete Biological Passport programme after questions were raised by some of the sport's top players about existing drug-testing procedures which focused mainly on urine tests.
The scheme sees the collection and comparison of biological data to spot discrepancies over time that suggest possible doping.