Bernard Tomic's father investigated over 'altercation'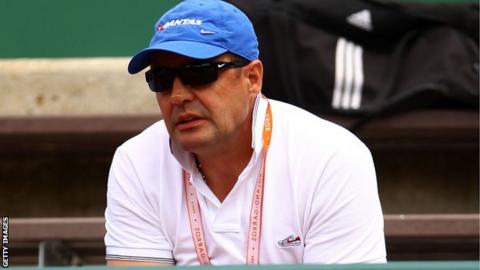 Reports that Bernard Tomic's father has been involved in an altercation with his son's hitting partner Thomas Drouet are being investigated by the ATP.
Details of an "incident in Madrid" involving the 20-year-old Australian's father, John, were as yet unclear, Tennis Australia said.
Australian media say Frenchman Drouet was left injured and Tomic senior would appear in court in Madrid on Monday.
"We are working closely with ATP officials," Tennis Australia said.
The full statement said: "Obviously media reports regarding an incident in Madrid are very concerning. We are working closely with ATP officials who are investigating the incident and are unable to comment further until the full facts are known."
A spokesman for the ATP on site in Madrid said: "We can only confirm there was an incident and we are gathering information."
Former Australian Davis Cup player and head of men's tennis at Tennis Australia, Todd Woodbridge, earlier told an Australian radio station: "We're still trying to ascertain if or what charges have been laid."
Tomic, who lost 6-3 6-2 in the first round of the Madrid Masters claycourt tournament to Czech Radek Stepanek on Sunday, has long been tipped for the top but despite his strong showing in grand slam events, a lack of consistency has cost him a higher ranking.
He has also enjoyed his fair share of controversy in his short career, frequently clashing with Australian tennis officials.
One of the earliest clashes in 2008 came when his father, who also acts as his coach, ordered the then 16-year-old to walk off court at a development event in protest of umpires failing to take action against what he alleged was repeated foot-faulting by his opponent.
In 2010, Tomic senior threatened that his son would quit Australia and play for Croatia after a row with Australian Open officials.
While at the 2012 Miami Masters, his son asked the umpire for his father to be ejected from the stand during one of his matches.